Culture of coastal & western Odisha (Orissa) with Tribal Wonder
Tour Code No : DT- 409 /SPCW- 2023-24
Tour Highlight : This is the very special tribal tour of Odisha which include of the real charm & cultural part of coastal and western Orissa , the flora and fauna of wild Satkosia sanctuary, the great Philosophy of Mahima religion sadhu at Joranda, The cultural rich of unique Buddhist places of Orissa, three heritage palaces , the real village pleasure of coastal odisha at Chandanpur and colorful ethnic lifestyle & culture and many more…. to rejuvenate your soul with real value of money.
Destination cover:  Bhubaneswar- Chandanpur- Kila Dali Joda- Dhenkanal- Satkosia Wildlife sanctuary – Sonepur- Bhawanipatna- Gunupur- Rayagada- Jeypore- Visakhapatnam and many tribal isolated villages and colorful weekly markets…
Duration of Tour: 14 Night/ 15 Days (weekend to weekend)
Suggested Itinerary 
D1-(sat)-Bhubaneswar- Dhauli- Hirapur –Chandanpur (2hr drive+visit)
Upon arrival meet our representative at airport/ railway station. Then transfer to Chandanpur
Chandanpur village retreat : (an unique coastal village of odisha, surrounding by nice coconut plants, and rice field, near river bhargvi and  with nice character full villages it is: 45km from Bhubaneswar airport and 10km from puri,  60km from Chilika lake , 40km Konark sun temple,2km from Raghurajpur Heritage village ) ,
on route excursion the rock edict by emperor Ashok of 3rd c BC at Dhauli. If time permit the visit the unique open roofed 64 Yogini temples at Hirapur (out of four in India that is one of them). Check in a nice village home stay retreat- Selanidingo/ host by nice couple .
Note- Nice cultural night (classic music along with nice mouth watering traditional organic dinner along with bonfire)
If desire we can organised here a traditional barber for whole body herbal oil massage (Optional)
Overnight- Selanidingo village Home stay retreat, Chandanpur
D2-(sun)-Chandanpur- Puri-Konark- Chandanpur (2hr drive+ visit)
Early stand up and drive to Puri excursion the classic part of  Puri by cycle rickshaw trip such as cremation place( swargadwar), old pond, bit walking on old street , marshal art place and also Jagannath temple( non Hindus are not allowed in it , so you can see that temple by hiking outer circle of the temple on public road enjoy the typical old carving while walking around the four gate of temple ). also visit the blue flag beach of Puri 
Back to Chandanpur while hiking visit the different character full village such as artisan village  excursion their traditional pattapainting , palm leaf engraving , tusser silk painting etc. also enjoy the classical dance – Gotipua, at the village ambiance, along with classic orissan lunch arranged by us
Afternoon visit the world famous sun temple at Konark- excursion the language of stone on 13th c AD. If time permit see the illumination of temple.
Mouth watering organic dinner along with bonfire at selanidingo.
Overnight- Selanidingo village Home stay retreat, Chandanpur
D3-(Mon)-Boating on River Bhargavi- Bhubaneswar Temple Tour-Kilajodi( Choudwar) (5hr drive+visit)
Morning after early breakfast at the open garden of that retreat and ride the catamaran boating (with boatman) and meet different wild birds on nature and the panoramic view of river "Bhargavi" and different wild ghat too ( total 2hr boating). while back to river Jetty meet the traditional pottery makers at their grand pottery making village (still they use age old traditional tech by hand) / also traditional farmer and coconut picker villages.
Afternoon excursion the evolution of ancient temple architect in chronological order of Old part of Bhubaneswar such as Parasurameswar (7th c AD) , Vaital (8th c AD), Mukteswar (9th c AD), Brahmeswar (11th c AD).  Rajarani (11th c AD) , and at the conclusion the Grand shiva temple of Bhubaneswar -Lingaraj (11th c AD) .                                  Note: Especially in Lingaraj temple only non Hindus are not allowed so one can visit the temple on top of platform. Check in the heritage palace at Kilajodi ( choudwar) .enjoy the royal hospitality & mouthwatering dinner at that palace.
Overnight: Choudwar (KillaDalijoda heritage palace) 
D4-(Tue)-Choudwar- Lalitgiri-Udaygiri-Ratnagiri-Dhenkanal (5hr drive+visit)
Proceed to Buddhist diamond triangle of Orissa- Lalitgiri, Ratnagiri, and Udaygiri. Excursion there ancient Buddhist University where it had been practicing the study since 1st c AD to 12th c AD. Such as great Monastery at Udaygiri and Ratnagiri (Maha vihar) , Great Stupa at Lalitgiri (Maha Stupa)  and Maha chaitya of Lalitgiri has small museum.  Evening enjoy the mouth watering dinner with royal hospitality at Dhenkanal Palace
Overnight: Dhenkanal palace (Heritage property) 
D5- (Wed)-Dhenkanal- Sadeiberani- Joranda- Dhenkanal (3hr drive+visit)
Enjoy the Royal breakfast at Open garden of the royal palace and then Meet the Dokra casting people at Sadeiberani and Afternoon meet the Mahima religion sami naked sadhus' at their monastery at Jorada. Excursion their unique worship during sun set time and then return back to Palace.
Overnight: Dhenkanal Palace
D6- (Thu)-Dhenkanal – Satkosia wild life sanctuary (3hr drive+visit)
Proceed to Satkosia Wildlife Sanctuary , (Satkosia : An unique wildlife sancturay of nature lover ) make permit at entry gate by our team, check in an eco retreat run by tribal community .
Pm- While jungle hiking & Roaming around the core zone by vehicle  (with the local guide) meet the wild animal and different birds on nature  (late afternoon chances of sighting is more).
mouthwatering dinner along with bonfire at the eco retreat and enjoy the nature with natural noise.
Overnight: Satkosia Wild life sanctuary
D7- (Fri)-Satkosia-Bauda- Sonepur(5hr drive+visit)
Morning standup with the natural noise of different birds on nature and after early breakfast at the retreat proceed to jetty point – boat ride at Satkosia Gorge (with boatman) and then drive for Sonepur enroute visit the very unique  star shaped group of ancient temple at Bauda. Also explore the divine feeling in the jungle  at Gandhradi ancient twine  temples (On the same grand platform there is a grand Shiva and a Bishnu temples which is date back of 8th c AD represent the hidden treasure of western odisha.
Upon arrival sonepur check in a hotel and if time permit enjoy the sunset point on the river bed (very scenic beauty of nature.
Sonepur- One of the most ancient temple city of western odisha popularly known as "Subarnapur" was the capital of Somavanshi rulers of 9th to 11th c AD. Which prosperous the jewels with many ancient temples, friendly traditional cultural oriented people, pottery making villages, boatmen village , textile villages, ancient ruin palace , and many more.
Overnight: Sonepur
D8-(Sat)-Sonepur Temple Tour- Boating- Textile village-Sonepur
Morning enjoy the sun rise while on boating in Mahanadi river. Sightseeing of different ancient temple . afternoon visit the unique textile village of Orissa- famous for Bomkai textile pattern. Also visit the ancient Brick  & Stone temple-10th c AD at there.
Overnight: Sonepur
D9-(Sun)-Sonepur- Balangir- Ranipur Jharial-  Bhavanipatna(5hr drive+visit)
Meet the local farmers which they selling their fresh vegetables in the most colorful weekly market at Balangir while you proceed towards Bhavanipatna. Enroute visit the 64 Yogini Temple at Ranipur Jharial (10th c AD) Also One of the ancient Brick temple of Odisha -popularly called Indralath Temple -10th c AD.
Upon arrival Bhavanipatna check in a nice Heritage Palace.
Overnight: Bhavanipatna palace
D10-(Mon)-Bhavanipatna-Kutia Tribe village- Desia village- Gunupur (5hr drive+visit)
Meet the Kutia Kondh tribe at their village and explore their lifestyle while hiking (total 1hr flat jungle footpath) at their village of lush green and high hill area (but motor able road is there up to the village). / if desire enjoy the tribal cooked food at the tribal  chief house (arrange by our guide with tribal chief) – Optional
KUTIA KANDHA:
The Kutia Kandha is a section of the Kandha tribe found in Kandhmal and Kalahandi dist. (south central part) of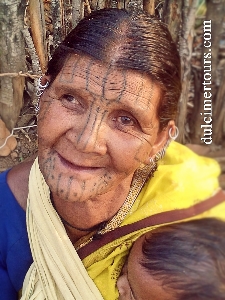 Orissa. The tribesmen are known for their buffalo sacrifice ritual locally known as "Kedu" to worship their Earth Goddess- "Darni Penu". They belong to the Proto-Australoid racial stock and shspeak a dialect their own called "Kui", which belong to Dravidian language family. They worship large number of deities and spirits; the chief among them is Darni Penu, the Earth Goddess worship by the village headman called Majhi & the village priest is called Jani.
Afternoon Meet and warm welcome by the Desia Kondh tribe in lush green and high hill area of Durgi Jungle range  (but motareble road is there up to the village). excursion their lifestyle.
Overnight : Gunupur
D11-(Tue)-Lanjia Saura village-Rayagada (4hr drive+visit)
Morning meet the only Aryan tribe of Eastern India- the Lanjia Saura at their isolated village in Puttasingh high hill jungle range     ( all weather motor able road up to their village). Full day excursion / if desire enjoy the tribal cooked lunch at the village chief house (optional) .
The Lanjia Saura: The saoras are one of the most ancient tribes of India. Have a racial affinity with the Proto- Australoid stock, their dialect called Sora, comes under the Austro-Asiatic family of Munda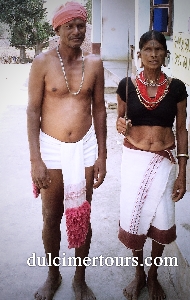 group of languages. Lanjia Saora constitutes one of the primitive sections of the Saora tribe. They are so called by their neighbours strip of male loin cloth is worn in such a fashion that both the red embroidered ends hang down in front and back like a tail (Lanja). Their women greatly enlarge their enlarge their ear lobes to wear rounded wooden pegs and have a characteristic tattoo mark down the middle of the forehead. Install the village deities represented by wooden posts at the entrance of the village. Have male and female shamans to serve their magico-religious needs. Famous for their attractive wall paintings," IDITIAL". Observe Guar, the secondary burial ritual to commemorate the dead by sacrificing buffaloes and by erecting menhirs.
Overnight: Rayagada
D12-(Wed)-Donguria tribe market- Kuvi kondh village- Kotpad- Mali village –Jeypore (4hr drive+Visit)
Meet the colorful Donguria Kondh Tribe at their colorful market of Chatikona, after couple of hour with them  then drive towards Jeypore on route visit the Kuvi Kondh tribe at their village and paraja tribal market near Koraput area. warm welcome by Mali tribal village.
Overnight: Jeypore
D13-(Thu)-Bonda tribe- Gadhava Tribe village-Jeypore (3hr drive+visit)
Meet the most colorful Bonda tribe at their weekly market at Onkudelly and then after enjoy the gorgeous waterfall at Duduma and explore the life style of Bora Gadhava people at their village and then drive back to Jeypore, free evening for self/ hiking on the main street of Jeypore. (best for Photography)
BONDA: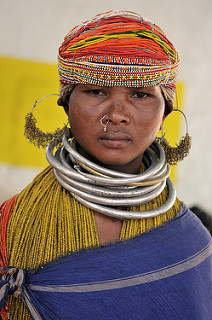 In the wild and remote mountainous country located towards the south-western tip of the Malkanigiri highlands lives a unique tribal community called- "Bonda". The tribesmen identify themselves as "Remo" (man). Bonda speak a language of their own that belongs to the Austro- Asiatic (South Mundari) language group. Bonda men are brave and bold. They derive their identity from their arms, such as bow, arrows, long knife which they always carry and sago palm-wine which is their most favorite drink. The Bonda women with their clean-shaven head decorated with head bands of Palmyra strips and plaited fillets of caryota fibber. Mass of colorured beads and shell strings, brass neck rings and necklaces hanging down even below the navel and the brass bangles covering the whole of the lower arms are the typical ornamentation of the Bonda Women. A short and narrow strip of striped loin-cloth woven at home by a double-bar tensioned loom covering only the private parts comprises the woman's wear.
Overnight: Jeypore
D14-(Fri)- Jeypore- Koraput- Kunduli market- Simanchal temple-  Visakhapatnam ( 5hr drive+visit)
Morning after refreshment drive towards to Visakhapatnam, ( the nearest airport and main railway junction). On route visit the Jagannath temple at Koraput ( allowed here  all religious people and camera too). Then visit The grand tribal weekly market of our state – Kunduli – famous for paraja, Mali, Rana tribe. if time permit visit the ancient Simanchal temple (11th c AD) Check in a nice hotel on beach in Visakhapatnam.
Overnight: Visakhapatnam
Day15-(Sat)- Departure
After breakfast checkout and departure towards airport for your onward destination.
Tour concludes:
Note:1 – Culture of each tribal community in Odisha is different from each other. They are very friendly most of the hospitality we learn from them/ to upgrade their life style and culture. The most worth is their group dance called "Dhemsha" at their village ambiance  (with proper costume and traditional musical instrument) which help to upgrade their culture and it is lifetime memorable but we (our guide) can organised it on spot to overlooking the local situation .
Note:2 – Each hotel in tribal area is well electrified and wifi system /
Note:3– This tour is inclusion of Guided tour which you gain the real charm of the tour but For more details about the tribal communities , route , contact local person and any travel related quires please feel free to contact us. Our field expert team will answer you with in 24 hr.
What ever you want out of your trip we can tailor make an itinerary for you!!!!!