Bhitarkanika National Park
It is Located in the north-eastern part of Kendrapara district of  Odisha. The sanctuary is covering an area of 672 sq km and out of that 145 sq km is core area.
The topography of the region is mangrove which not only attract thousands of migratory birds from different part of the world but also the major wildlife of the Bhitarkanika National Park include salt water crocodile, water monster Lizard, spotted deer, monkey, wild boar,  jungle cat , fox, Jackal, mongoose, fishing cat, hyena etc.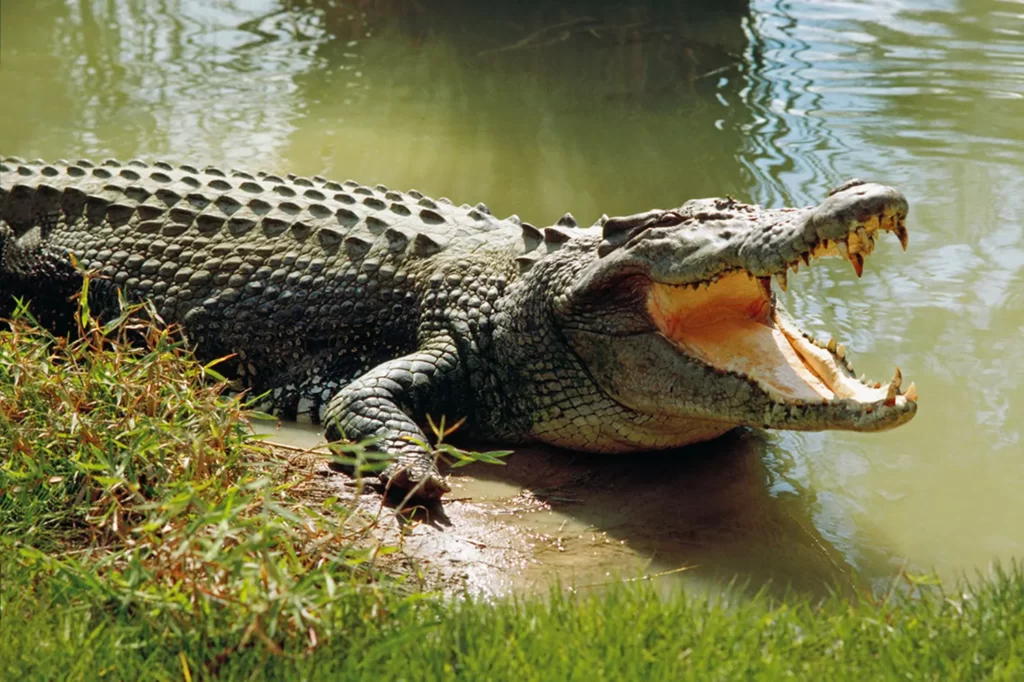 The sanctuary also has a sizable bird population with prominent being 8  different type kingfisher, open bill stork, ibis , cormorants, Darters, water hen, Hupei, Tree pie,  Wood Peckers, Drongos, Egrets, red jungle fowl and Herons.
The flora of Bhitarkanika National Park chiefly comprises of Mangrove forest with Hental being the prominent trees.
Nearest airport: Bhubaneswar – 150km from Khola entry point;
Nearest Railway station: Cuttack-120km, Bhubaneswar-150km, Bhadrak to Khola gate via Chandbali- Jainagar jetty- 75 km
Best time to visit: Oct. to March ( during winter chances of sighting is more) ) entry point ( for boating) for the national park open from morning 7 am to exit time 5 pm at Khola & Gupty Gate.
How to get Bhitarkanika : 1) From Bhadrak Railway Station: To Chanbali – Rajkanika – JaiNagar Jetty (State Highway-9 & it is 75 km by road) then board the pre booked boat (arranged  by us) to Khola Gate make permit and then entry the National park. (Night stay also possible – pre booked the rooms by us)
2) From Bhubaneswar : To Cuttack- Kendrapara- Pattamundai- Rajnagar- Khola gate (Upto Cuttack NH16 then State Highway-9A & it is 150KM by road)
Entry ticket per person per day : INR 40 only (please bring three photo copy of your identity proof and please carry the original one also with you. (camera and video camera charges extra)
Booking of Boating: advance booking
But entry permit for the National Park directly at the  Khola and Gupty entrance gate
Closing of the sanctuary: 14May-31 July. & 1jan.-6 th jan.
There are eco cottage and tent in the buffer area of this national park, near khola gate, there is limited accommodation to avoid the rush please book in advance.
Suggested Tour Itinerary from Bhubaneswar :
Tour code: 119/ WLTB
Duration of Tour: 2 Night/ 3 Days
Day1-Bhubaneswar- Bhitarkanika National Park ( 4hr drive)
Upon arrival at Bhitarkanika Eco cottage after fresh up afternoon visit the local typical farmer village(clay houses straw thatches roof ) with nice rice pest mural painting and explore the village life of northern costal Orissa.
Overnight: Bhitarkanika National Park
Day2-Bhitarkanika National Park
Full day program (boating and hiking with our naturalist of core area- Bhitarkanika, Bagagahana, Gupty, Dangmal and meet the salt water crocodile on nature in different creeks). Over night stay in the same eco cottage and enjoy the dinner along with bon fire.
Overnight: Bhitarkanika National Park
Day3- Bhitarkanika National Park- Departure
Morning after breakfast departure for your onward destination.
Note- Here we offer the itinerary from Bhubaneswar/ but if guest like to come from Calcutta by train and like to drop at Bhadrak railway station (many express / super fast/ passenger train halt at here) our team pickup from them & continue the tour accordingly. If you like to extend the program also possible . please say us in advance becuase the room & taxi must booked here in advance.
Caution: Please Try to obey the jungle rule accordingly in Govt. order. Respect the nature and enjoy the nature.
| | |
| --- | --- |
| Do | Don't |
| Keep mineral water while hiking | Walk or drive night time in core area |
| Keep mosquito repellent | Take any arms and weapons |
| Keep silence | Take Crackles and music system |
| Use green or grey color cloth and cap while hiking. | Feed the wild animal, birds and reptile |
| Keep binocular and camera | Disturb the animal, birds and reptile |
| Keep proper permit and entry document | Use plastic polythin |
| Keep blanket while safari in winter | Mimicries the animal and birds |
For more detail description, package tour & best price please feel free to contact : [email protected] ,  [email protected] ,  or phone to us +91-9439050039