Tour Highlight:– It is very special interest combine economy  package of Assam- Arunachal and Nagaland tour where  our guest can excursion – the age old traditional lifestyle  of different ethnic group at their different isolated villages of Arunachal Pradesh ,  the most tribal community of Nagaland – The Konyak (once famous for head hunters) at their very isolated villages of indo- Miyamar (previous name was Burma) border.  The very different Costume and Accommodation- (the typical settlement of different tribal group at the natural ambiance and each group costume is differing from others.).
Including the culture of different ethnic group guest can relax and rewind their energy at the largest river island in the world- at Majuli and the culture and traditional lifestyle of Vaishnav sadhus (holy people- of all age group)  at their different satras (monasteries)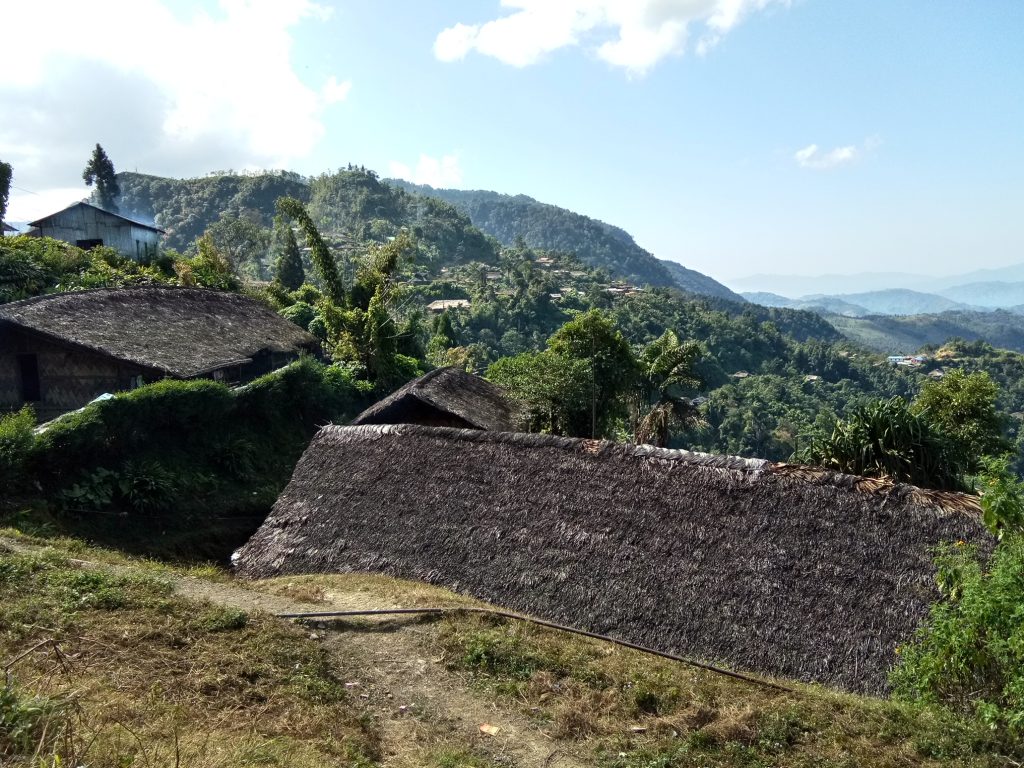 At the conclusion  meet unique endanger specie- one horn rhinos with unique flora and fauna at Kaziranga National park during open jeep and elephant safari
So overall  rejuvenate your soul to feel the ethnic India with you during your North- East village tour special .
Tour code:  DT-804/ NETS- 2021-22
 Destination cover: Dibrugarh- Ziro- Daporijo- Along- Mon- Majuli- Kaziranga National Park and most isolated ethnic villages of North- Eastern part of India
Duration of Tour: 15 Day/ 14 Nights
Suggested itinerary :  This suggested itinerary has deigned accordingly the driving distance , sightseeing, place of interest / it can revised or change at your final choice   
Day1- Flight from Delhi/ Calcutta- Dibrugarh
Upon arrival at Dibrugarh airport meet our representative and transfer to hotel / handover the travel document kit (Including  tour itinerary , hotel vouchers, etc ) and briefing the tour program  by our guide at hotel .
Overnight- Dibrugarh
Day2-Dibrugarh- Ziro (7hr drive+ visit)
Morning after breakfast drive to Ziro (Arunachal pradesh part) to cross the river Bhramaputra and enroute visit the ethnic village .
Overnight- Ziro
Day3- Ziro –Apatani tribal village
Full day excursion the life style of Apatani tribe at Ziro valley
Overnight- Ziro
Day4- Zero- Hill Miri tribal village- Daporijo (7hr drive+ visit)
Meet the Hill Miri tribe at their remote village of Raga hill range.
Overnight- Daporijo
Day5- Daporijo – Tagin tribal village
Full day excursion the Tagin tribal village
Overnight: Daporijo
Day6- Daporijo- Galo Tribal village- Along (7hr drive+ visit)
Morning after breakfast drive toward Along enroute visit the traditional Galo tribal village in Raglam jungle range
Overnight- Home stay in Along
Day7- Along –
Whole day programme at Along. Visit Adi Gallong tribal villages at Kombo, Pching area and cross the cane bridge to connect the remote adi village.
Overnight- Along.
Day8- Along- Dibrugarh- (5.30hr drive+ visit)
After breakfast drive to Pasighat the main town of eastern Himalayan.  Enroute visit Adi (minyong) tribal villages. Evening in the hotel.
Overnight- Dibrugarh
Day 9 : Dibrugarh – Shangnyu Village- Mon (Nagaland state) : (5 hr drive + visit)
Meet one of the most colorful tribe of Nagaland-The  Konyaks at their very isolated village Shangnyu , visit the 500 year old Ang house (village chief) . There is a wonderful wooden monument measuring 8ft. in height and 12 ft. breadth which is believe to be constructed by heavenly angels. Carvings of human beings and other creatures are engraved on this monument. Also visit to Konyak Murungs (meeting place) , where one can still see the collection of old human skulls. Konyaks were headhunters in the olden days and used to keep the enemies head as a trophy.
Then proceed to Mon.
Overnight- Mon
Day 10 : Mon – Konyank village- Mon:
Full day excursion one of the nice isolated Konyak village (core jungle and very rough road but it is safe for tourist and here the old people have been kept  their tradition , costume and ornaments. ) if desire enjoy the traditional lunch at the village chief house .
Note: Here we have not mentioned  the Longwa village which is now very commercial in tourist point of view / but if our guest like to visit Longwa , we can take them to there instead of our mentioned isolated village -choice is your.
Overnight: Mon
Day11- Mon- Majuli (5hr drive+ 1 hr ferry+ visit)
Early drive to Majuli to cross the Bhramaputra river by ferry (last ferry service is 2.30pm)
Check in a nice eco retreat at there.
Early evening visit one of the Satras (monastery ) and enjoy the classic dance organize by small child sadhus (with their traditional costume and musical instruments).
Enjoy the mouth watering traditional dinner including natural red rice and Assamies style fish curry and vegetable too at there.
Overnight- Majuli
Day12-Majuli- Vaishnav satras – Mishing tribal village (2hr drive+ visit)
Morning after early breakfast meet the different sadhus at their different Satras (very nice for photography).
Pm- visit the Mishing tribe at their isolated villages in Majuli (north western side ) – they are very friendly and very nice for photography. people still living in Bamboo house (We have very good local relation too)
Overnight- Majuli
Day13-Majuli- Kaziranga National park (5hr drive+ visit)
Morning after breakfast proceed to Kaziranga national park.
Check in a nice eco resort at there.
Overnight- Kaziranga National park.
Day14-Kaziranga National Park-safari
Early stand up for Elephant safari (with legal pre booked  permit paper ) and meet the wild One horn rhinos on nature .
Pm- afternoon again open jeep safari to meet the different animals and birds on nature including one horn wild rhinos.
Overnight- Kaziranga national park.
Note- During Monsoon (Mid May to Mid Oct) Kaziranga National remain closed every year
Day15- Departure at Guwahati airport (4hr drive)
Morning after breakfast check out and departure toward Guwahati airport to your onwards destination with lots of sweet memories  and value of your tour.
Tour concludes:
Folk festival in Assam:
Rongali Bihu- it is the most folk festival celebrate in the mid April (13th to 15th April ) every year in Assam. It is mostly the spring festival to remember the myth story of Krishna  and it derive three different days in three different fuction like 1st day is called Goru (cattle festival) Bihu then 2nd days for human being and 3rd day for god and goddess .
All Assamese family celebrate it very colorfully with folk song and special dance form both male and female called –Bihu dance.
Magh Bihu- it is the festival of agriculture so after harvest Assamese people celebrate it with very joy at the mid of January (15TH January) . Youth celebrate it with dance and folk song and every Assamese eat the new crop of their production.
Rass Lella- The largest river island in the world- Majuli's different satras  celebrate the grand festival Rass Lella (dance and story related legend Shree krishna , Radha and Gopis (milkmaid) and it allowed the ladies to participate the colorful festival Maha Rass Lella in different satras which attract many tourist and devotees to Majuli during full moon day of Kati (November each year)
Date of Celebration of grand festival in Assam
| | | |
| --- | --- | --- |
| Name of the grand festival | Place of festival | Celebration date |
| Rongali Bihu | Whole Assam | 13th to 15th April every year |
| Magh Bihu | Whole Assam | 15th January every year |
| Rass Leella | Majuli | Full moon of November  – (this year 29th & 30th November and 1st December 2020) |
Photography- allowed
Note- The details about Tribes of Arunachal Pradesh and Tribes of Nagaland and their festivals please visit our other  Arunachal tribal tour page and Nagaland Tribal tour page
This package we special degine for two week – But if guest like to visit  Monpa tribe in North western Arunachal pradesh , Tawang and Bomdilla Monastry in western Arunachal Pradesh at their revised itinerary also possible  and also if guest like to extend their program to Horn bill festival at Kohima –and tribal villages of Nagaland also possible at the revised program.
Entire North east states only Arunachal Pradesh requires pre paid permit for more detail please visit our Arunachal Pradesh tribal tour package.
For any more detail please feel free contact with our expert team we try to send reply with in 24 hr.