The first rising sun state of India- Arunachal Pradesh is prosperous with 26 different tribal community and out all accordingly the colorfulness , culture , place of interest , distance, fair and festival we try to present here  Nyishi, Apatani, Tagin, Gallo, Hill miri, Adi and Mishmi Tribe in this special interest tour package and try to make your Arunachal tribal tour memorable with value of your budget.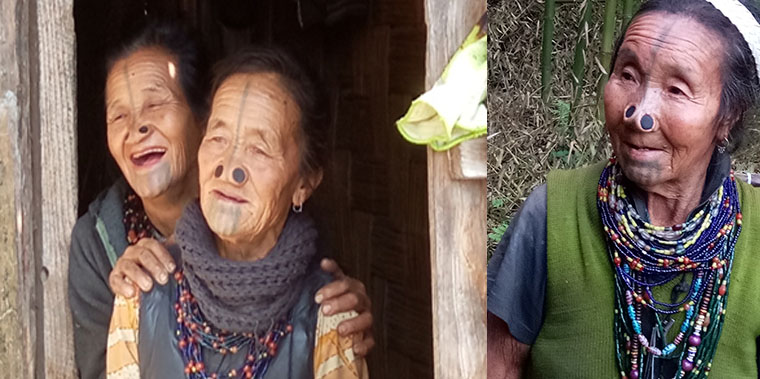 Tour code: DT- 801/ ARTT- 2021-22
Tour Highlight : Different isolated villages of Ethnic group in Arunachal Pradesh for special interest guest and Photographer
Destination cover: Guwahati- Tezpur- Itanagar- Ziro- Daporijo- Along- Pasighat- Dibrugarh and different tribal villages in Arunachal pradesh
Duration of Tour: 10Days
Visit permit : Required For Foreigner Per head 30 USD For 15 days (mandatory) of some special zone of Arunachal pradesh / it can extent for more 7 days on chargeable basis.
How many day before you should get it: 15 days (two week before allow the photocopy of passport and visa)
Who make permit: Our company – Dulcimer Tours get the permit for you (but you should send the photocopy of your passport and visa )
Suggested itinerary:
Day1- Guwahati- Tezpur (3.30hr drive)
Upon arrival Guwahati meet our representative and by road transfer to Tezpur (one of the ancient town of Assam)
Overnight: Tezpur
Day2- Tezpur-  Itanagar- (6.30hr drive+ visit)
Morning heritage walk at Tezpur to cover the old part of the ancient town. Then afternoon visit the market at Itanagar./ best for photography point of view.
Overnight- Itanagar.
Day3- Itanagar- Nyishi Tribal village- Ziro (6hr drive+ visit)
Meet the Nyishi tribe at their isolated village While you drive towards Ziro , if possible enjoy the local hygienic cooked food in the village chief house.
Check in a nice clean home stay in Ziro/ warm welcome by friendly host and his family.
Overnight- Ziro
Day4- Ziro –Apatani tribal village
Full day excursion the life style of Apatani tribe at Ziro valley
Overnight- Ziro
Day5- Zero- Hill Miri tribal village- Daporijo (7hr drive+ visit)
Meet the Hill Miri tribe at their remote village of Raga hill range.
Overnight- Daporijo
Day6- Daporijo – Tagin tribal village
Full day excursion the Tagin tribal village
Overnight: Daporijo
Day7- Daporijo- Galo Tribal village- Along (7hr drive+ visit)
Morning after breakfast drive toward Along enroute visit the traditional Galo tribal village in Raglam jungle range
Overnight- Home stay in Along
Day8- Along –
Whole day program at Along. Visit Adi Gallong tribal villages at Kombo, Pching area and cross the cane bridge to connect the remote Adi village.
Overnight- Along.
Day9- Along- Dibrugarh– (5.30hr drive+ visit)
After breakfast drive to Pasighat the main town of eastern Himalayan.  Enroute visit Adi (minyong) tribal villages. Evening in the hotel.
Overnight- Dibrugarh
Day10- Departure  
Morning after breakfast drive to Dibrugarh airport board the domestic flight for  onward destination.
Tour concludes:
Note- accordingly your arrival date and duration of tour we can add and revised Your tour package of different tribal festival / also including Monpa Tribal village too (which is given below) and also Majuli cultural tour , Kajiranga national park  or continue to Nagaland tribal tour too (see our next page Arunachal and Nagaland Tribal tour package)
Tribes of Arunachal Pradesh:
The Monpa tribe:  it is one of the major tribe in Tawang dist. Of Arunachal Pradesh accommodate tradtionaly in stone and wood house.  They are the only nomadic tribes of the North-eastern region of India dependent on the animal sheep, cow, yak, goat, horse etc and they speak Tibeto- Burman Language. The people are very colorful with their hand made yak wool custom with their wood carving and Thangka (it ia a Budhist art painting on cotton and silk) carpet making also one of their other skill.
Major Festival they celebrate:
| | | |
| --- | --- | --- |
| Name of the grand festival | Place of festival | Celebration date |
| Torgy | Tawang | 10th to 12th January every year |
Photography : Allowed
The Nyishi Tribe:  These tribe are paleo- Mongoloid race and speak Tibeto- Burman language live in upper subansiri dist. Of Arunachal and they like to believe of joint family system with traditional lifestyle. They are skill in handicraft product such as shawl weaving, carpet making, bamboo and cane product etc still they believe of barter system among their neighbors .
The Nyishi tribal community of all age group celebrate the Nyokom festival for peace, productivity and prosperity and harmony of the world.
Major Festival they celebrate:
| | | |
| --- | --- | --- |
| Name of the grand festival | Place of festival | Celebration date |
| Nyokom | Itanagar / yazile/ Sepa | 24th – 26th Feb every year |
Photography : Allowed
The Apatani Tribe:  The lower subansiri area of beautiful Ziro valley is the home of Apatani tribe . Their beautiful natural settlement which make balance of ecologically (now recommended by world heritage site by UNESCO) also their beautiful ornaments such as beed necklace and the nose lob  is make separation them rest of the world.
Major Festival they celebrate:
| | | |
| --- | --- | --- |
| Name of the grand festival | Place of festival | Celebration date |
|  Myoko | Ziro valley | 21th – 27th March every year |
| Dree | Ziro Valley | 4th & 5th July every year |
Photography : Allowed
The Tagin Tribe: The home of Tagin Tribe is upper subansiri district mostly Daporijo area of Arunachal Pradesh , traditionally custom like red and while combination cloth with very special physical athencity make separate them from other. Still they believe of barter system.
Out of other the major festival of Tagin tribe is Si- Donyi
Accordingly their tradition si means Earth and Donyi means Sun , so basically it is a community festival which is worshiped to earth and sun   by the village priest for better prosperity and healthy life which and at the conclusion date it sacrificed a Mithun (Indian Bison) – because they belive it is a sacred animal which bring the prosperity .
Major Festival they celebrate:
| | | |
| --- | --- | --- |
| Name of the grand festival | Place of festival | Celebration date |
| Si- Donyi | Daporijo | 4th -6th January every year |
Photography : Allowed
The Gallo Tribe:  One of the primitive human race in the beautiful mountain valley of western siang dist. Of Arunachal is prosperous by nature is called Gallo tribe , who are sub tribe of Adi community speak Tani and Gallo language . They are polygamy and practicing of shifting cultivation . with very typical culture (including name given idea of their children) . Their most hospitality though, out standing colorful festival and isolated villages and every green mountain , river valley attract many guests to that place.
Out of all Mopin is the most colorful festival of Gallo tribe, it is mostly agriculture festival and it celebrate after harvest of rice , so all Gallo tribe worship nature goddess Mopin Ane to bring wealth and prosperous to their community . though Rice is the main staple food of Gallo for that as a symbol during their famous group dance Popir they pest the rice flour on their chick .
Major Festival they celebrate:
| | | |
| --- | --- | --- |
| Name of the grand festival | Place of festival | Celebration date |
| Mopin | Along | 4th  & 5th April every year |
Photography : Allowed
The Adi Tribe: Adi means Hill tribe of Arunachal Pradesh , divide into Bogumi & Onai group . they are animist believe of Donyi-pilo (means sun and moon ) accordingly anthropologist these people migrates from south china on 16th c AD. Like to leave in a isolated virgin land of west siang , lower siang valley . Each   / each village has Miri  (shaman) house – who is spiritual doctor of the society.
Each village has female dormitory house where they learn their lifestyle at there including the old women wear yellow necklace & spiral earrings and tattooing is very interesting and the nice helmet made for male by bamboo , cane and hornbill feather make Adi very special.
Miri take the lead role during communal and festival group dance popularly called Ponung ,( and their dance divided into four division Ponung, Delong, Yakjong and Tapu and at the end weapon show to the evil spirit to prevent from evil eye)
Out of all Adi tribe celebrate many festival and out of all Solung is the grand one
Major Festival they celebrate:
| | | |
| --- | --- | --- |
| Name of the grand festival | Place of festival | Celebration date |
| Donggin | Along valley | 2nd -5th Feb every year |
| Aran | Along valley | 7th March every year |
| Etor | Along valley | 15th May every year |
| Solung | Pashighat/ Boleng | 1st – 3rd Sept. every year |
| Podi Barbi | Along valley | 5th December every year |
Photography : Allowed
The Hill Miri Tribe: The Hiill miri Tribe of Arunachal are live in lower siang valley around Daporijo and Along area, custom is Hill miri are very different the gents wear very lean cloth with bearskin head gear holding usually a machete (a kind of axe) and a knife and female wear blouse with a long cloth which knot at waist point with very special hair style.
Out of all Boori Boot festival is famous amoung them , in this festival they getting together to welcome the spring and successful harvest lead by Nibu (tribal priest)
Major Festival they celebrate:
| | | |
| --- | --- | --- |
| Name of the grand festival | Place of festival | Celebration date |
| Boori Boot | Daporijo | 6th February every year |
The Mishmi Tribe: The Mishmi tribe lives in the isolated villages of Wakro valley in Arunachal Pradesh. They divided into three sub tribes such as Idu Mishmi , Digaru Mishmi and Miju Mishmi
Each sub tribe of Mishmi tribe different  among each other their hair style and ornamental boarders costume / their head gear woven by cane / women wear beautiful silver ornaments with black skirts and shawl .
Amoung all Reh is the main festival of Idu-Mishmi tribe, where they worship of mother goddess Nanyi Inyitaya , this festival continue three days and at the day of conclusion a Mithun (Indian Bison) sacrificed near goddess for good life.
Major Festival they celebrate:
| | | |
| --- | --- | --- |
| Name of the grand festival | Place of festival | Celebration date |
| Reh | Roing / Anini | 1st -3rd February every year |
| Tamla -Du | Tezu/ Wakro/ Chongkham | 15th-17th February every year |
Photography- allowed