Nagaland, is the state of North eastern part of India , which cover almost 80% of forest and 89% of total population is tribal . This is the land of mysterious and once famous for head hunters/ for expand the territory they hunted the neighbour villagers and brought their head like a trophy. But now the time changed Govt facilitate all legal facility and try to upgrade their culture again / due to influence of missionary most of the tribal population change their religion into Christian but still they preserve their culture (fair &festival ,costume and nature worship) and now they welcome guest to their villages and they survive very happy life. Previous it had needed permit but now it need not any pre-permit but after arrival the town / guest most enter their name along with the photocopy of passport/ visa to the near by police station.
This is the land full of nature, ethnic people , colourful weekly market, fair and festival and many more. Tribal tour in Nagaland is very special for special interest guest. In our suggested below given day to day tribal tour itinerary of Nagaland out of 16 different tribal group of the state we have designed some of the special tribal group who keep their colourful tradition, costume, culture, their isolated villages also accordingly driving distance, sightseeing, duration of tour, of all different ethnic group to keep in mind the interest of our valuable guests.
Tour code: DT- 820/ NTTS- 2023-24
Tour highlight: Most ethnic villages in Nagaland for special interest guests & photographers
Destination cover: Dimapur- Khonma village- Thoupma- Mokokchung- Mon- Dibrugarh with different ethnic villages
Duration of tour: 8days/ 7nights (from weekend- Saturday to weekend-Saturday which save time and real value of money)
Suggested itinerary : This special interest itinerary for Photographer and ethnic culture oriented guests for any special tribal festival tour the itinerary become revised
Day 01 : (sat) – There are Connected Flight from Delhi- or – Kolkata to – Dimapur :
Upon arrival at Dimapur airport meet our representative and transfer to hotel.
After noon if time permit visit the local tribal market in Dimapur
Overnight- Dimapur
Day 02 : (sun)- Dimapur – Khonma (Angami tribal village)- Touphema : (Total driving hour: 4 hr + visit)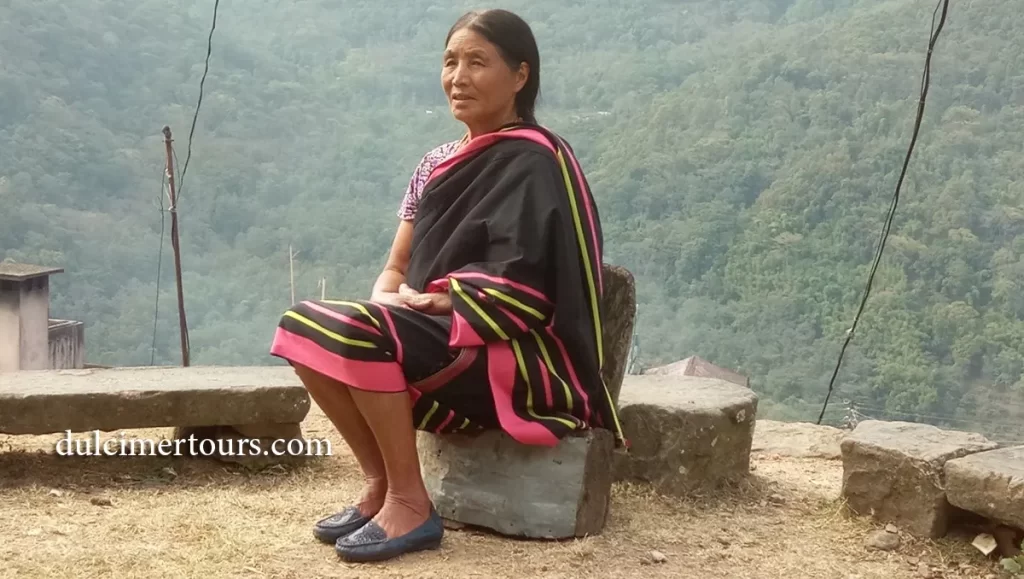 meet the special Angami tribe at their ethnic village at Khonma excursion their special settlement on abode of hill slope and their lifestyle , costume and hospitality
Overnight- Touphema
Day 03 : ( Mon ) Touphema – Angami Naga village – Mokokchung (4.30hr drive+ visit)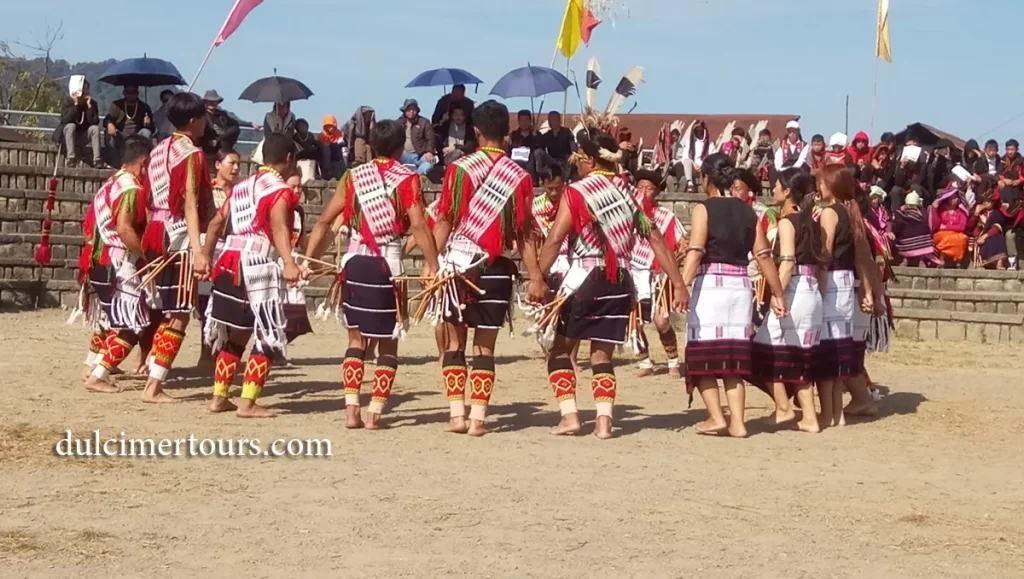 morning meet the colourful Angami naga tribe at their village if possible enjoy their group dance (with proper traditional attire, subject to available the village chief)
Then drive towards to Mokokchung / check in a clean comfort hotel
Overnight- Mokokchung
Day 04 : (Tuesday)-Mokokchung- AO naga village – Mokokchung (total 3hr drive+ visit)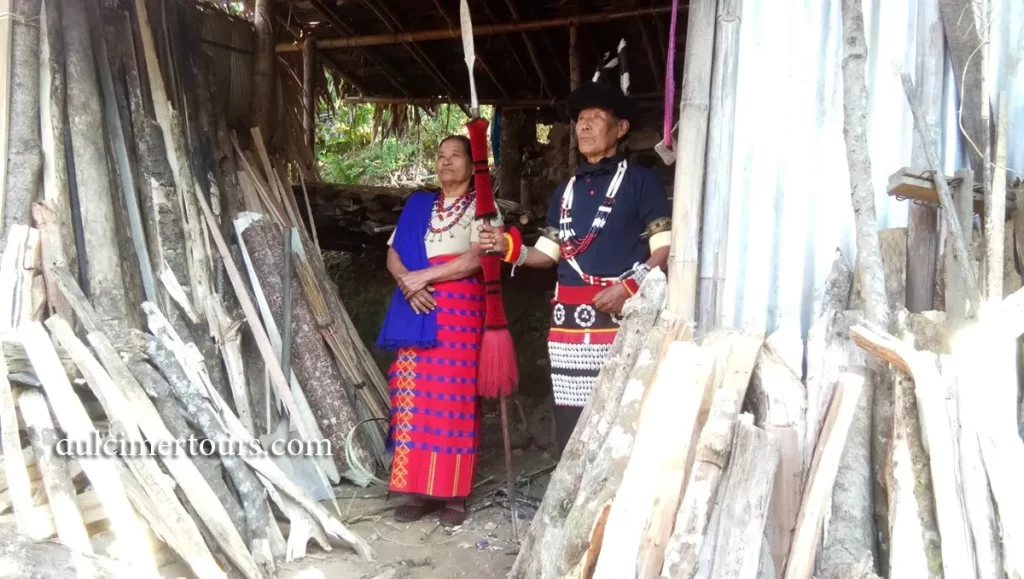 Meet the very friendly AO Naga tribes at their isolated villages , warm welcome by the village chief / very nice for photography.
Overnight: Mokokchung
Day 05 : (Wed)-Mokokchung – Konyak tribal village- Mon (5hr drive+ visit)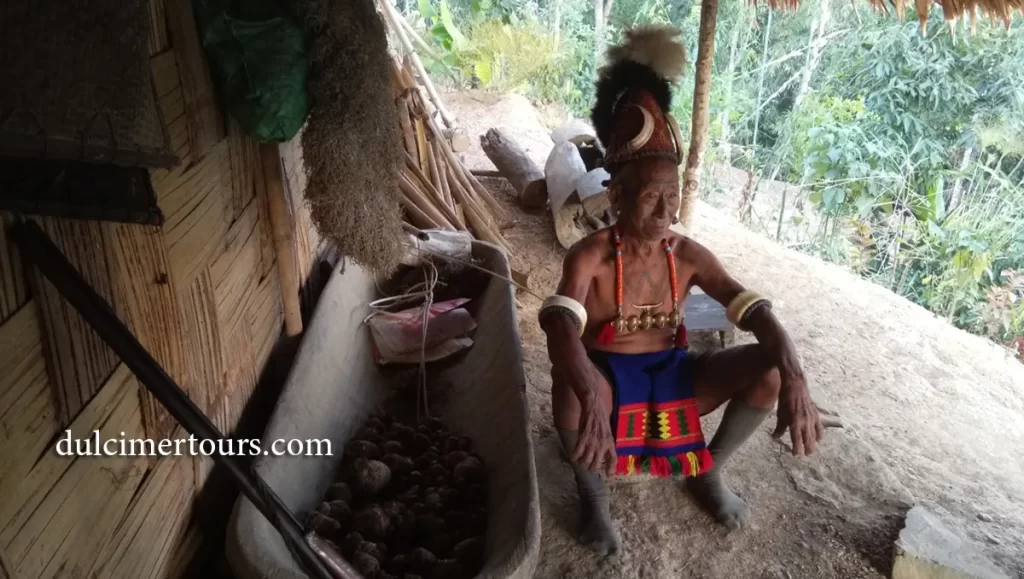 meet the most colourful Konyak tribe at their isolated village in Mon area. Warm welcome by their family members / very best for photography
Overnight- Mon
Day06- (Thursday)-Mon- Longwa (Konyak tribal village- Mon (total 4hr drive+ + visit)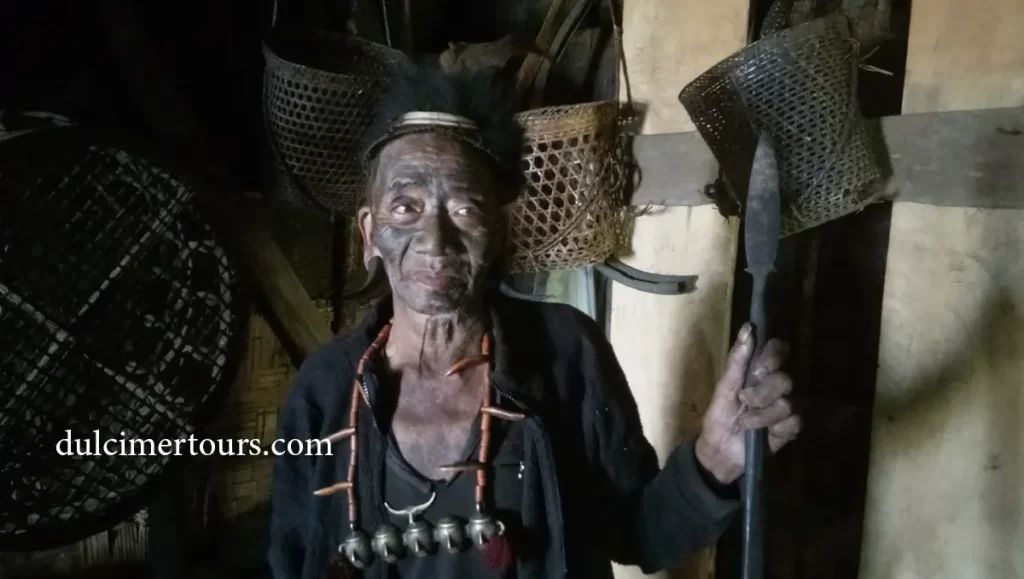 Full day excursion the most colorful Konyak (head hunter naga tribe) at their isolated village in the border of India- Mymar border – very nice for photography/ if desire enjoy the traditional cooked food at the village chief house.
Overnight- Mon
Day7- (Friday)- Mon- Special Konyak village- Dibrugarh (total 5.30 hr drive+ visit)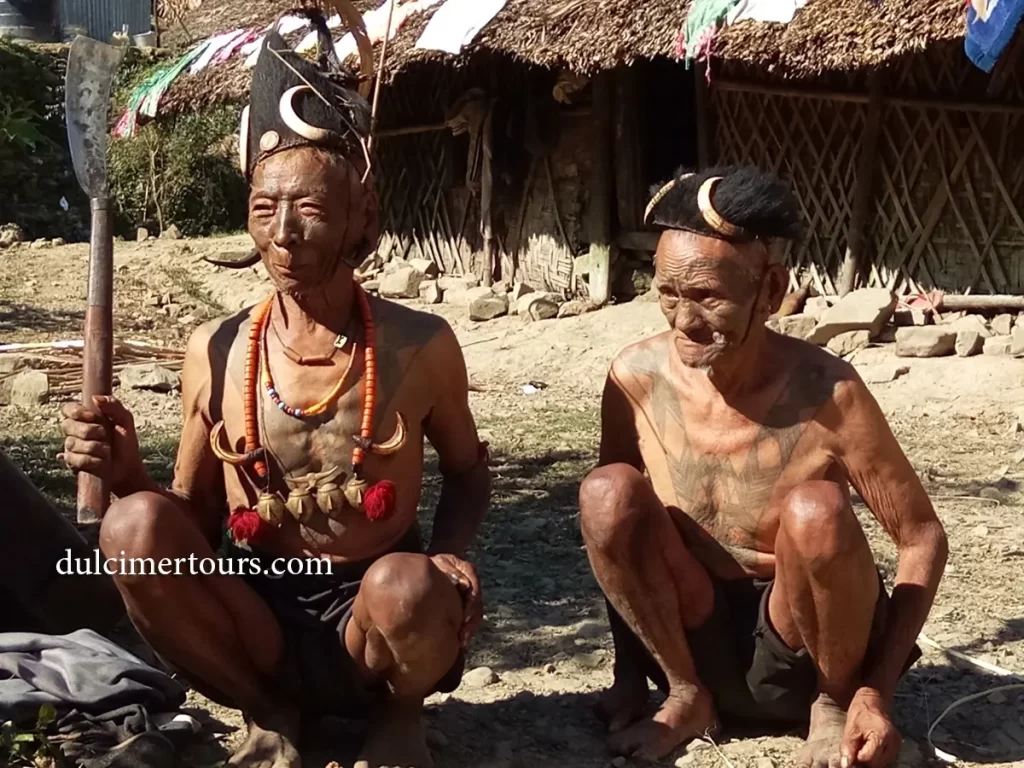 early start to meet the very special Konyak naga tribe at their very isolated village in the core of Nagaland , where group of Konyak tribe both male and female are very friendly warm welcome by them / best for photography.
Overnight- Dibrugarh
Day8- (Saturday)- Departure
Morning after breakfast check out and departure toward Dibrugarh airport to your onward journey with lots of sweet memories
Tour concludes:
The Konyak tribe: They are Tibeto- burmise origin( which we have detail described in our North-East tribal tour package) , live in the isolated zone of Mon area of northern Nagaland and one of the major tribes of the state. Once they were famous for head hunter / and they hunted head to their neighbour villagers for expand of territory , for hunting head they use different traditional weapon including daws (a traditional knife) , and then they brought the enemy head as a trophy to their village/ then after they tattoo their face and body as a victor.
The village chief is called Angh (like king) – and their main long house straw and palm leave thatch hall for meeting called Murong which also they keep their traditional weapon and musical instrument including long wooden hand made drum / most of the special house out decorate with skull of animals / inside of the hall they keep cooking by fire wood and just upper into it they preserve their surplus animal meat / and smoke to preserve it for future use.
They use bone and other stone jewelry , they ladies use traditional hand made black skirt and men use hand made shawl type with nice wild pig bone with bear skin head gear.
They have good traditional wood carving and weapon making skill .
Major Festival they celebrate:
| | | |
| --- | --- | --- |
| Name of the grand festival | Place of festival | Celebration date |
| Aoleang | Longwa, Mon area | 1st – 6th April every year |
| Horn bill festival | Kohima | 1st – 10th December every year |
Photography : Allowed by the permission of Angh (village chief, who is our very good friend- he knows our team)
The AO naga: They are one the major tribe (Tibeto- burmise origin) mostly found in Mokokchung district in Nagaland. Speak sino-tibeto language chungli AO, Mongsen AO, and western Mokokchung district only three village can speak Changki AO,
Most Hospitality AO naga village in Mokokngchung district is- Chuchuyimlang, Mopungehukit, Impur, Ungma, Lonkhom,
Out of all the AO naga celebrate their grand festival – " Moatsu" , it is a festival of Bonding , this festival celebrated after the season of sowing is over. It continue with vigorous singing and dancing customary practices of making the best rice beer and rearing the best pigs for slaughtering during the festival. The women flok, dressed in their traditional fineries, join the men folk in composing warrior songs. Villagers sing songs to eulogize the lovers and the village folk as a whole. The elders encourage the youth to be bold and heroic for defending the villages from enemies, a custom continued from the head-hunting days.
Major Festival they celebrate:
| | | |
| --- | --- | --- |
| Name of the grand festival | Place of festival | Celebration date |
| Moatsu | Chuchuyimlang | 1st -3rd May every year |
| Horn bill festival | Kohima | 1st– 10th December every year |
Photography : Allowed by the permission of Chuchuyimlang village chief
The Angami Naga:- These tibeto- burman tribal community fourth largest populated group in Nagaland found in Kohima and Dimapur district of Nagaland. Their neighbor called them Tenyimia means Swift walker. Entire Angami land is divided into four geographical part such as Northern , western , southern and plan platoo. Each area has different oral language and out of all Tenyidie is their most prestigious one with written in Roman script.
Their village boundary is out cover with field called khel and every entrance of village is nice display of clan mark and in the village Morung they called Kichuki and Tehuba which is male and female dormitory respectively . after adult sent the youth stay there and learn their life style.
Out of all their main festival is – Sekrenyi , it is a celebration of purification accompanied with feasting and singing. A highlight of Sekrenyi is the Thekra Hie, when the village youths gather and croon traditional songs throughout the day.
Major Festival they celebrate:
| | | |
| --- | --- | --- |
| Name of the grand festival | Place of festival | Celebration date |
| Sekrenyi | Thouphema & Khonma village | 25th – 27th February every year |
| Horn bill festival | Kohima | 1st– 10th December every year |
The Rengma Naga:- The Rengmas are Tibeto- Burman origin and an ancient days they called the slave of Angami naga but now there is no slavery system in India and they settle in Kukri hill of Kohima district. They male wear tail shaped very lean cloth to cover the lower part and female wear black color skirt type of costume. Which they dye the color from nature at their own hand made looms. They believe age old traditional shift cultivation / hunting and gathering is also way of their life. Stay in bamboo made straw thatch up ground houses in the high hill area. Bamboo made handicraft is the main occupation of traditional Rengmas'. Their morung called Rensi , where they settle their village and family dispute too.
They celebrate Ngada is the main festival just after the harvest. It is the festival of thanksgiving and rejoiing. Ngda also underscores the end of the agricultural year. The village high priest (Phensengu) hearalds the beginning of the festival at the top of his voice, so that he villagers can prepare themselves for it.
Major Festival they celebrate:
| | | |
| --- | --- | --- |
| Name of the grand festival | Place of festival | Celebration date |
| Ngada | Tseminyu / Thouphema village | 27th & 28th November every year |
| Horn bill festival | Kohima | 1st– 10th December every year |
Note- Accordingly tour duration Guests can add Arunachal Pradesh Tribal touror North East Tribal tour with This special Nagaland Tribal Tour too / But You are requested to inform us during final booking of Nagaland tour or in Advance