Chariot Festival with Tribal Wonder in Orissa
RATH YATRA (CHARIOT FESTIVAL)- 2024
Date of Celebration:  7th  July- 15th  July 2024
"Journey with God"; the grand chariot festival of lord Jagannath, One of India's greatest annual events,  popularly known as Rath Yatra takes place in Puri and other part of India and abroad . But especially colorful at Puri and tribal areas
At Puri: when a fantastic festival sets forth from Jagannath Mandir it commemorates the journey of Krishna from Gokul to Mathura. The immages of Jagannath, his brother and his sister are br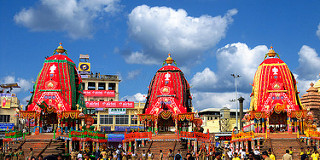 ought out from the temple and dragged in hug "wooden cars" know as Raths, down main grand road to Gundicha Mandir (about 3 and half km)
The main car of Jagannath stands 14mt high, over 10Square, and rides on 16 wheels, ach over 2mt in diameter . Hundreds of thousands of pilgrims (and tourists) flock from all over India to witness this stupendous scene.
Once the cars reach Gundicha Mandir, the gods take a week-long " Summer Break" before
being reloaded onto the cars and returned to Main Jaggannath temple , in a virtual repeat of the previous week's procession. After the festival, the cars are broken up and used for firewood in the communal kitchens inside the
temple. New cars are constructed each year, mostly out of a special wood, thereby putting enormous pressure on the state's dwindling forests.
At the Tribal area in Odisha (Orissa)- Same date and same procession occurs but some place t
hree chariots and some place one chariots / special event is with the traditional custom and musical instruments the tribal group of particular areas join in this festival with local which is very interesting in photography point of view
A particular tribe in Orissa fixed the marriage at the beginning days of the festival a
nd many newly married tribal couple wearing with their traditional custom and ornaments come in the beg
inning day of the festival which is another attraction.
Location of this festival: 
Through out the state but our  festival tour start from  southern- tribal part of Orissa – Bissamcuttack
Nearest airport is Visakhapatnam (250 km) and Bhubaneswar ( 400 km) .
Nearest railway station is Bissamcuttack ( 10km) , nearest main rail head is Rayagada ( 45km) . And it connects with all weather motor able roads.
And conclusion at Puri ( Eastern Odisha) the main grand temple of God Jagannath which is one of the major tourist attraction of our country.
Puri nearest airport is Bhubaneswar ( 60 km). Main rail head is at Puri it self – 2 km from city center.
Photography- Allowed
Entry tickets: No entry fee but  if you want seating arrangement on a bungle top (for better sight/ toilet facility) at PURI during Chariot festival then it is chargeable
Tour program- We suggest our guest to start your journey from wonderful tribal land of south eastern part of orissa and enjoy the chariot festival with a specific ethnic group and our itinerary not only cover colorful chariot festival but also very isolated ethnic villages, beautiful landscape , gorgeous waterfall, to culture of western and coastal part of orissa too.
For instant Itinerary please feel free to contact with us / just you send your arrival and departure date rest you leave on us:
We introduce nice village retreat near at Puri (10km) named Selanidingo which give the peace and harmony pollution free ambiance with classic life style and organic cooked food to rejuvenate your soul
Tour itinerary / duration: 14 Night / 15 Days (weekend to weekend)- or as your choice
Tribal Fair and Festival in orissa
2023
2024
Mandei at Nabarangpur
1st to 3rd Nov.
1st to 3rd Nov.
Dhanuyatra festival at  Bargarh
15th January – 25th January
Joranda Mahim Sadhu Fair (Mela) at Joranda
23rd & 24th  February
Chariot festival at Bissamcuttack & Puri
20th -28th June   at Bissamcuttak (tribal area)

20th – 29th june  at Puri (Odisha)

7th -15th  July at Bissamcuttak (tribal area)

7th  July – 16th  July at Puri (Odisha)

Dusshera festival trough out state
20th Oct- 24th  Oct. 2023
 8th Oct- 12th Oct. 2024