Orissan Birds in Natural Habitat
Code nr: 110 /ORIM
Destination of the Tour: Bird watching is part of wild life tour, but we have categorized it.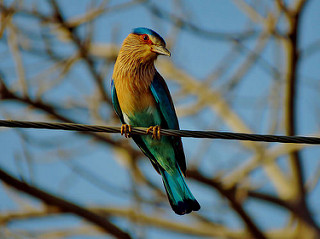 Though our birds specialist ( ornithologist) try to help you for bird watching, some time in jungle and some time on wet land. Fortunately Orissa has both. Asia's largest salt lagoon-chilika( birds paradise) , wetland like ansupa, and nice jungle area like Satkosia- Tikarpada
Duration of the Tour: 8 Night/ 9 Days
D1-Bhubaneswar-Nandankanan-Bhuabaneswar(1hr 30min. drive+visit)
Upon arrival meet our representative at airport/ railway station. Then transfer to hotel. Afternoon visit the Kanjia lake in Nandan kanan area where you will some of the unique birds on nature.
D2-Bhubaneswar- Ansupa Lake- Dhenkanal(4hr drive+Visit)
Morning drive to Ansupa lake area in athagarh forest range( where both inland and wetland bird you will catch in your binocular). Then check in a nice palace in Dhenkanal.
D3-Dhenkanal- Tikarpada-Satkosia(3hr drive+Visit)
Drive to Satkosia wild life sanctuary. Upon arrival there check in a nice jungle resort run by local and forest department inside of core area (With proper safety). Afternoon hiking inside up to chhotkei village and you must get some rare species of birds on nature.
D4-Tikarpada- Satkosia (full day excursion)
Early morning hiking on the jungle trail near Tikarpada and kandhaaeda area. During full day excursion carry water bottle and pack lunch with you. Overnight stay in the same resort.
D5-Satkosia- Puruna katak-Dhenkanal(3hr drive+visit)
Hiking the Purana katak area inside the sanctuary and watch the wild bird on nature. Check in again the palace at Dhenkanal.
 D6-Dhenkanal – Manglajodi- chilika eco cottage(3hr drive+Visit)
Morning departure for Manglajodi ( the birds' paradise). Upon arrival check in an eco cottage at there(run by the local ). Afternoon walk on nature trail to meet the migratory and residence birds on nature.

D7-Manglajodi – chilika eco cottage
Early morning meet the migratory birds on nature while boating(3hr) on catamaran boat( with boatman). Afternoon hiking again the nature trail of different area and meet the birds on nature.
D8-Paluru- Janikuda- Satpada
Morning departure towards Satpada via: Janikuda. Enroute in the village Barakudi , Maluda meet the migratory birds on nature. Cross the chilika lake over ferry and afternoon walk near satpada- sipakuda area. Overnight at Satpada.
D6-Departure
Morning departure for Bhubaneswar airport (3hr drive on road)
| | |
| --- | --- |
| Do | Don't |
| Keep mineral water while hiking | Walk or drive night time in core area |
| Keep mosquito repellent | Take any arms and weapons |
| Keep silence | Take Crackles and music system |
| use green or grey color cloth and cap while hiking. | Feed the wild birds |
| Keep binocular and camera | Disturb the animal, birds and reptile |
| Keep proper permit and entry document | Use plastic polythin |
| While hiking follow the guide | Mimicry the birds |
Orissa Tribal Tours provide you the all documents such as entry and permit before beginning the package tours. For more detail description & best price please feel free to contact : [email protected] , [email protected] , or phone to us +91-9439050039
Chilika Lake-Birds Sanctuary/ wild Irrawaddy Dolphin
Located in the south-eastern part of Puri district; The sanctuary is covering an area of 1100 sq km.
Place of attraction: satpada ( sight wild Irrawaddy Dolphin while in boating)-58km from Puri; 120km from Bhubaneswar. Boating facilities: Motor Boat available at Satpada, Sipakuda, Mirzapur, Gabakunda accommodation : OTDC , Hotel at there.
Mangalajodi- sighting of wild migratory and residential bird on nature -100km from Bhubaneswar; 120 km from puri . Boating facilities: catamaran Boat available with hood , binocular, and train bird watching guide with boatman, limited of boating capacity 4+2 There is eco cottage and tent at Mangalajodi. Due to limited accommodation, to avoid the rush please book in advance.
Rambha- 140km from Bhubaneswar, 120 km from puri- through chilika lake/ ferry. Boating facility: at Rambha, Motor Boat and catamaran boat both available. Place of attraction : breakfast island, honeymoon island, birds island, fishermen village , farmer village and an ancient temple with pond and ruin palace.
Barkul: 100 km from Bhubaneswar, Boating facilities: Govt. & private Motor Boat available at there. Place of attraction: Kalijai island, Nalaban island, birds island. Accommodation: Govt OTDC Panthniwas available at here.
The topography of the region is supports wetland sandpiper grass and casuarinas Forest. This area is the home for Different Migratory birds and wild Irrawaddy Dolphins with huge amount of brackish water fish, lobster, crabs and many more)
Best time to visit: Sept. to March (during winter season chances of sighting is more)
What ever you want out of your trip we can tailor make an itinerary for you!!!!!