RAJIM KUMBHA MELA: 2020

Date of Celebration: 9th February – 21st Feb. 2020
Rajim kumbha is the grand festival, which has been celebrated at Rajim (three holy rivers the Mahanadi, the son and the pairy mingling point, popularly known as the Prayag of Chhattisgarh) with thousands of devotees lots of saints and Naga sadhus participate the holy deep of the festival.
Location : Rajim is cultural capital of Chhattisgarh,
Nearest airport– Raipur ( 40km)
Nearest  railway station– Raipur ( 44km). And it connect all weather motor able road . from Abhanpur 19 km.
Code no: 206-A /CGFT
Festival Highlight:- "Naga Sadhus" (Holi Men)
Naga means complete nude and cover the fire ass of their entire body. No irritation at any circumstances and group of Naga sadhu worship at that place ,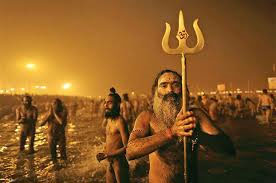 Conclusion day the Parikrama- means after holy heritage walk they holi deep into the sangam (the mingling point of three rivers)
During heritage walk they process their different traditional martial arts in public.
Photography– Allowed (in the permission of Naga Sadhus)
Entry fees: Free (But special request of Police authority to the Naga Barrack
We suggest this festival tour with tribal wonder around 2 week program but as your choice we prepare the instant itinerary more or less days .
Just you please drop a mail on your arrival and departure date rest you leave on us.
We May combine this Rajim Kumbha Mela fair in Chhattisgarh with Joranda sadhu festival in Orissa, for more detail please feel free to contact with us.
| | | |
| --- | --- | --- |
| Tribal Fair & Festival in Chhattisgarh | 2019 | 2020 |
| Rajim Kumbha Mela (Naga Sadhu fair) | | 9th Feb. – 21st  Feb. |
| Gonnchha Festival | 4th July- 13th July | |
| Bastar Dussehra Festival | 3rd Oct- 9th Oct | 19th Oct.-26th Oct. |
| Kanker Dussehra | 7th Oct. | 24th Oct. |
| Chanwar Mandai | 13th & 14TH Oct. | |
| Kanker Mandai | | 5th Jan. |
| Gobrahin Mella | | 21st Feb. |
| Tirathgarh Mella | | 21st February |