Date of Celebration: 23rd  February – 8th  March  2024
Rajim kumbha is the grand festival, which has been celebrated at Rajim (holy confluence of the Mahanadi, Pairi and Sondur rivers at Rajim) with thousands of devotees lots of saints and Naga sadhus participate the holy deep of the festival.
The Rajim kumbh has been celebrating every year during February-March for about 15 days. The kumbh Mela is celebrated  by thousands of devotees and saints from various parts of India and abroad.
The Kumbh was brought to much spotlight with significant investment by the local government and its infrastructure giving it a modern template without losing its Vedic spirit.
Rajim Kumbha Mela Itinerary
Location : Rajim is cultural capital of Chhattisgarh,
Nearest airport– Raipur ( 40km)
Nearest  railway station– Raipur ( 44km). And it connect all weather motor able road . from Abhanpur 19 km.
Tour Code : DT-  206-A /CGFT- 2024
Festival Highlight:- "Naga Sadhus" (Holi Men)
Naga means complete nude and cover the fire ass of their entire body. No irritation at any circumstances and group of Naga Sadhu worship at that place ,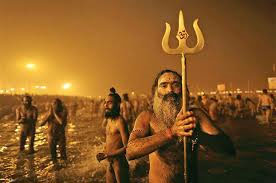 Conclusion day the Parikrama- means after holly heritage walk they holi deep into the sangam (the mingling point of three rivers)
During heritage walk they process their different traditional martial arts in public.
Photography– Allowed (in the permission of Naga Sadhus)
Entry fees: Free (But special request of Police authority to the Naga sadhu Barrack)
WHY SHOULD YOU ATTEND KUMBH MELA IN RAJIM – 2024
Realize the meaning of Humanity.
Meet the Mystics (Naga Sadhus) and witness their Miracles
Feel the Highest Possibility of Your Liberation.
If you are photographer then it is paradise for you.
Rejuvenate your mind and soul to discover real India with you.
We suggest this festival tour with tribal wonder  Of Chhattisgarh which cover different ethnic group and their isolated non touristic villages / colorful weekly markets and it around 2 week program but as your choice we prepare the instant itinerary more or less days .
Just you please drop a mail on your arrival and departure date rest you leave on us.
We may combine this Rajim Kumbha Mela fair in Chhattisgarh with Joranda Sadhu Festival in Orissa( 23rd & 24th  February 2024) , for more detail please feel free to contact with us.
| | | |
| --- | --- | --- |
| Tribal Fair & Festival in Chhattisgarh | 2023 | 2024 |
| Rajim Kumbha Mela (Naga Sadhu fair) | | 23rd  Feb. – 8th March |
| Gonnchha Festival | 20th June- 28th June |   7th  July- 15th July |
| Bastar Dussehra Festival | 18th Oct. – 25th Oct. |    6th Oct .- 13th Oct |
| Kanker Dussehra | 23rd  Oct. |      11th Oct. |
| Chanwar Mandai |  26th & 27th November | |
| Kanker Mandai | 1st January | 7th  January |
| Gobrahin Mella | 8th February | 8th March |
| Tirathgarh Mella | 18th February | 8th March |