Tadoba National Park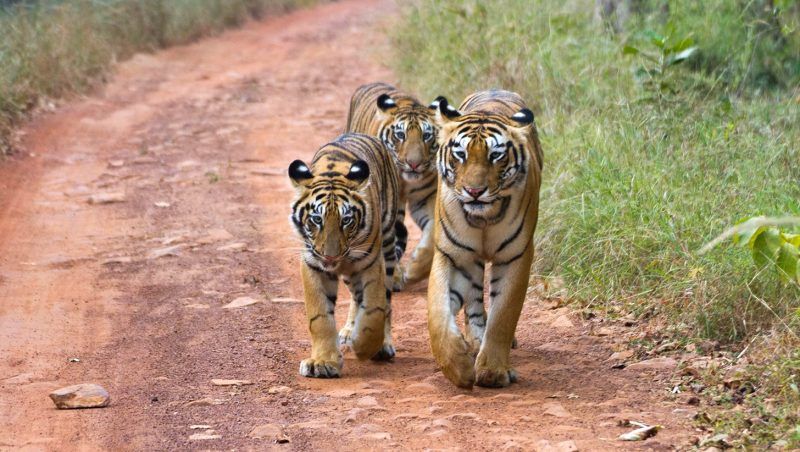 Tadoba Tiger Reserve is the pristine and unique eco-system situated in the Chandrapur district of the Maharashtra State of India. The Reserve contains some of the best of forest tracks and endowed with rich biodiversity. It is famous for its natural heritage. Tadoba Tiger reserve was created in 1995. The area of the Reserve is 625.40 sq. km. This includes Tadoba National Park, created in 1955 with an area of 116.55 sq. km.
Often referred to as "The Jewel of Vidharba", the Tadoba National Park lies in the heart of a reserved forest, it is an infinite treasure trove of innumerable species of trees and plants – and wildlife that includes tigers, panthers, sloth bears, hyenas, jackals, wild dogs, bison, barking deer, nil gai, sambar, and cheatal.
Location: 160km from Nagpur(3.30hr drive) , Nearest Airport – Nagpur ///
Nearest Railway Station: chandrapur-45 km
Best time to visit: February to May // Park closed: During Monsoon- July- Aug- sept.
Booking of safari: on line booking open 120 days earlier.
Safari by : open hued maruti jeep with jungle guide ( mandatory; provide by forest department at the entrance gate)//Maximum no. of Guests per safari jeep – 6 pax. (Excluding driver and jungle guide). Suggested Tour:
Tour Code:  508/ PNPS
Duration of tour: 2Night/ 3 Days
Day1-upon arrival Nagpur drive by road (3hr drive) to Tadoba National Park (Nagpur is well connected with Mumbai, Delhi and other metro cities by air and train), check in a nice resort and afternoon 1st open jeep safari.
Day2- meet the wild tiger on nature while rumble around by 2nd  and 3rd open jeep safari during morning and after respectfully.(please don't miss pandarponi, No.2 & 97 water hole in the core area)
Day3- morning 4th safari and breakfast then drive to Nagpur, board the evening flight or train to your onward destination.
Tour Concludes:
Note: our tour package price includes four safari, 2night accommodation, all food (2breakfast, 2lunch & 2dinner) with mineral bottled water for drink, taxi with fuel from arrival till departure and naturalist during safari.
Caution: Try to obey the jungle rule accordingly in order. Respect the nature and enjoy the nature.
| | |
| --- | --- |
| Do | Don't |
| Keep mineral water while hiking | Walk or drive night time in core area |
| Keep mosquito repellent | Take any arms and weapons |
| Keep silence | Take Crackles and music system |
| Use green or grey color cloth and cap while hiking. | Feed the wild animal, birds and reptile |
| Keep binocular and camera | Disturb the animal, birds and reptile |
| Keep proper permit and entry document | Use plastic polythin |
| Keep blanket while safari in winter | Mimicries  the animal and birds |