Central India Special
Code Nr: 302/ MPCS
Tour Destination: This programme has special designed , which explore the culture, Heritage , spiritual touch with wildlife. which includes two world heritage site ( Sanchi & Khajuraho), Historical and Heritage cities like Bhopal, Ujjain and Mandu etc , holy ( Yotirlinga place) like Mahakeleswar at Ujjain, Omkareshwar, and one of the famous tiger sighting place like Bandhavgarh( chances of tiger sighting is 99% at there)
Duration:- 11 Night /12 Days
Day1-Bhopal
Upon arrival at Bhopal airport meet our representative and transfer to nice hotel. Afternoon if time permit visit the old bazaar area and evening the boating on the upper lake. Overnight at the same hotel.
Day2-Bhopal- Sanchi-Udaygiri-Bhopal ( 120km-3hr drive+visit)
Morning visit the world famous Sanchi stupa (world heritage site), then to Udaygiri rock cut cave (5th c AD, Gupta period, return back hotel, lunch and then after noon visit the city sightseeing of Bhopal.
Jama masjid, Moti masjid and Gohar mahal in chowk area. Overnight at the same hotel.
Day3- Bhopal- Ujjain (188km-4hr drive+visit)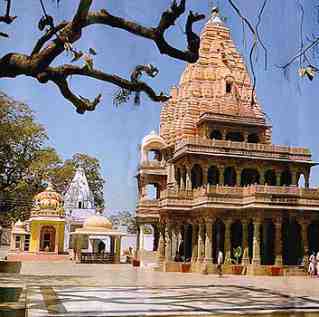 Morning drive towards Ujjain , check in a clean comfort hotel at there and afternoon visit the Mahakeleswar temple , Bade Ganesh Jee temple and early evening join the holy arati of river shipra then return back to hotel.
Day4-Ujjain-Mandu (145km-3hr drive+visit)
Morning after breakfast drive towards to Mandu. Upon arrival at there check in a nice hotel on the side of lake. Afternoon visit the eco point and Baz Bahadur and Rani Roopmati palace.
Day5-Mandu
Morning explores the city of joy again, to visit the famous Jahaz mahal (The palace like ship) and hindola Mahal, as well as ornamental canals, bath and pavilions. Jami Masjid, and Hoshang Shah's Tomb
afternoon visit the champa Baoli, Dilawar Khan's Mosque, Nahar Jharokha, Gada Shah's shop and house, and taveli Mahal and also ashrafi Mahal, hati Mahal and Dariya Khan's Tomb etc.
Day6-Mandu-Omkareswar-Maheswar (190km-4hr drive+visit)
Departure for Omkareswar: visit shri Omkar Mandhata temple on the island houses on of the twelve Yotirlinga. Visit also Siddhanath Temple of 10th c AD. The 24 avatars, a cluster of Jain Temples and the Satmatrika temples. Then drive towards Maheswar. Check in a nice Ahalyabai palace afternoon visit the Rehwa weavers' society.
Day7-Maheswar-Indore ( 80km- 2hr drive then Night train to Jabalpur)
Morning while boating on the river Narmada, view the activities on the river ghat. Visit the Maheswar and kaleshwara, Rajarajeshwara, Ahileshwar temple then after lunch drive towards Indore to board the night train for Jabalpur.
Day8-Jabalpur
Upon arrival Jabalpur check in hotel at Bhedaghat on the bank of river Narmada.
Jabalpur: – Pleasure resort and 12th century capital of the Gond kings and later the seat of the Kalchuri dynasty.Morning boat ride on Bhedaghat: Soaring in glittering splendour, the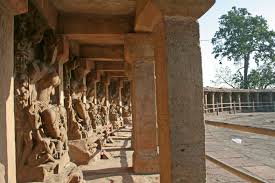 Marble Rocks at Bhedaghat rise to a hundred feet on either side of the Narmada as it flows through a narrow gorge. Also visit the stunning Dhuandhar Falls and the Chausath Yogini Temple. Overnight relax at the same hotel at there.
Day9-Jabalpur– Bandhavgarh National Park (190km- 4hr drive+visit)
Departure for Bandhavgarh, check in a nice clean and comfort jungle resort at there. Bandhavgarh: Tiger –spotting is virtually guaranteed at Bandhavgarh as it has the highest tiger density in India. This is where the Maharaja of Rewa found the world's first white tiger. More than twenty-two species of mammals and 250 species of birds can be found here.
Day10– Bandhavgarh National Park
Meet the wild tiger and also other herbivorous on nature while jeep safari in the early morning and afternoon (please consult with your guide). Overnight in the same resort.
Day11- Bandhavgarh National Park-Khajuraho (240 km-5hr drive+Visit)
Morning again one jeep safari in the core zone of Bandhavgarh. Then after lunch drive to Khajuraho and evening check in the nice hotel and relax. If time permit visit the light and sound show at the western group of temple or classical dance programme at the auditorium.( both are chargeable).
Day12-Khajuraho-flight for Delhi
Morning excursion the language of stone on western group of temple at Khajuraho and explore the ancient visual Kamasutra on temple wall and also visit the eastern group of Jain temple. Afternoon board the flight for Delhi, then to your onwards journey.
Tour concludes:
What ever you want out of your trip we can tailor make an itinerary for you!!!!!