Budhist Tour
Code nr: 303/ MPBT
Tour Destination: the city of lake-Bhopal, world famous Sanchi Stupa (World Heritage Site), the ancient men made cave of Udaygiri (Gupta king period).
Sanchi
A World Heritage Site( 46kms from Bhopal via Diwnganj), Sanchi is known for its stupas, monasteries, temples and Pillars dating from the 3rd century B.C. to the 12th century A.D. The Sanchi stupa was originally buit by the Mauryan Emperor Ashoka.
A Chunar Sandstone pillar fragment, shining with proverbial Mauryan polish, lies near Stupa 1 and carries the famous edict of Emperor Ahsoka's warning against schism in the Buddhist community. The four gateways of the Stupa built in the 1st c B.C. with stories of Buddha's past and present carved on them are the finest specimens of early classical art.
The adjacent town of Vidisha and the 5th c A.D. Udaygiri Caves are also well worth a visit.
Duration of Tour: 2Night / 3 Days
D1-Bhopal
Upon arrival meet our representative and transfer to hotel and check in.
D2- Bhopal- Sanchi-Udaygiri-Bhopal (120km-3hr drive+visit)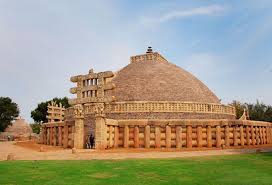 Early stand up and drive towards Sanchi, visit the world famous Sanchi stupa (world heritage site), if time permit then drive to Udaygiri rock cut cave (5th c AD, Gupta period where special attraction is the legend story of god Vishnu's 3rd incarnation- Varaha depict there very clearly. Return back hotel and relax.
D3-Departure
Morning departure for airport to your onwards journey.
Tour concludes:
What ever you want out of your trip we can tailor make an itinerary for you!!!!!