BASTAR DUSSHERA: 2023
Date of Celebration: 18th to 25th Oct. 2023
Bastar Dusshera Festival tour is very special in Chhattisgarh . The main festival of Bastar is Dusshera which spans over 75 days. It starts it Haryali Amavasya and involves participation of almost all people of the society. It has been celebrated for hundreds of years. Unlike the rest of India, where Raavan is burnt to mark the victory of good over evil, Bastar ( Jagdalpur)Dusshera involves Functions like Kaachan Gaadi, Jogi Bithai, Maavli Parghav, Bhitar Raini, Baahar Raini, Chariot Procession, and Maiji's Vidai.
Location : Bastar region now the headquarter is at Jagdalpur .
Nearest airport: Raipur ( 300 km, 6hr drive), connect with Delhi, Mumbai, Bhopal etc; Visakhapatnam – 320km (6hr drive) which connect Delhi, Mumbai, Chennai, Bangalore etc…
Nearest railway station Jagdalpur (5km). And it connect all weather motareble road .
Tour Code : DT- 206-B /CGFT- 2023-24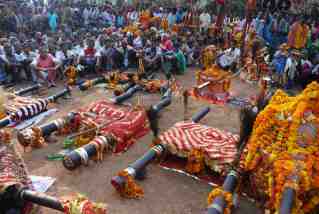 Tour itinerary / duration: 15Days/ 14 Night ( weekend to weekend)
We suggest this festival tour with tribal wonder around 2 week program Which includes most wonderful isolated tribal villages life style of different ethnic group (such as Dandami Maria, Raj Maria, Muria, Baiga, Halva, Batra, Dhuruba, Gond and many more ) and their traditional culture of chhattisgarh  but as your choice and interest we prepare the instant itinerary .
Just you please drop a mail on your arrival and departure date rest you leave on us.
| | | |
| --- | --- | --- |
| Tribal Fair & Festival in Chhattisgarh | 2023 | 2024 |
| Rajim Kumbha Mela (Naga Sadhu fair) | | 23rd  Feb. – 8th March |
| Gonnchha Festival | 20th June- 28th June |   7th  July- 15th July |
| Bastar Dussehra Festival | 18th Oct. – 25th Oct. |    6th Oct .- 13th Oct |
| Kanker Dussehra | 23rd  Oct. |      11th Oct. |
| Chanwar Mandai |  26th & 27th November | |
| Kanker Mandai | 1st January | 7th  January |
| Gobrahin Mella | 8th February | 8th March |
| Tirathgarh Mella | 18th February | 8th March |