ETHNIC TOUR OF CHHATISGARH & ODISHA (ORISSA) WITH CULTURE
Tour Code no. : DT-406 /SPCT – 2023
Rout of the Tour: This tour beginning from Raipur( the capital of Chattisgarh) and then move towards south- the Bastar region then enter to the southern part of odisha visit the famous tribal culture and then to the eastern coastal plan and conclusion departure to Bhubaneswar (the capital of odisha)
Plan of the Tour: It is economically very sound and it cover most tribal treasure of our country which our guest most find the cultural activities of different tribe at their most natural isolated villages and so on. This tour is very special interest guided tour with exclusive taxi & local guide for your team only
Price of this package: Price depend upon the group size, type of accommodation, so for further details please call us.
Tour Highlight : If you really excursion the ethnic life of Chhattishgarh & Odisha (Orissa) state  such as Muria , Maria , Dandami Maria (Bison Horn Maria in Chhattisgarh ) and Paraja, Dhuruba, Bora Gadhava, Desia, Dongaria, Kutia and over all most colorful tribal community of our India- Bonda tribes then this itinerary is perfect for you . To explore more the culture of these ethnic group and nice photography visit their villages, their colorful weekly markets, enjoy their group dance and realize their culture at their natural ambiance and conclusion  with the culture of coastal orissa with flora and fauna of the famous mangrove forest – Bhitarkanika National Park real rejuvenate your soul with perfect value of money.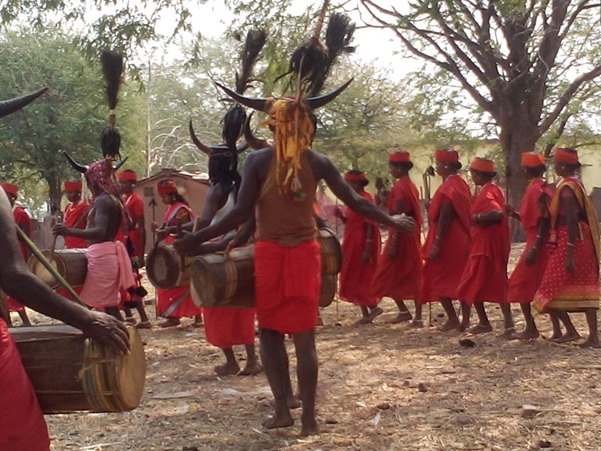 Tour Duration:
15 Days / 14 Night ( weekend to weekend)
Suggested itinerary
D1-(Sat)-Raipur- Siripur-Raipur (2hr drive+ visit)
D2-(Sun)-Raipur- Rajim-Udukuda (pre- historic rock art spot) -Kanker(5hr drive+visit)
D3-(Mon)-Kanker- Muria Tribe village- Kondagaon (3hr drive+Visit)
D4-(Tue)-Jagdalpur- Dandami Maria tribal village (Bison horn Maria dance) – Chitrakoot-Jagadalpur (3hr drive+ visit)
D5-(Wed)-Jagdalpur-Kotpad (tribal textile village) -Dhuruba tribe village-Jeypore (3hr drive+ visit)
D6-(Thur)-Jeypore- Bora Gadhava village (tribal group dance )- Onkadelly( most colorful Bonda tribal market)-Jeypore (4hr drive+ visit)
D7-(Fri)-Kunduli (the grand tribal market) – Paraja & Kuvikondh village-Rayagada (4hr drive+ visit)
D8-(Sat)- Dongaria Kondh village – Baliguda  (4hr drive+visit)
D9-(Sun)-Kutia Kondh village-Chilika lake (5hr drive+visit)
D10-(Mon)-Manglajodi( chilika lake)- Konark (sun temple)- Chandanpur village retreat (4hr drive+ visit)
D11-(Tue)-Village special- catamaran boating on river Bhargavi- classic puri special by cycle rickshaw – Chandanpur village retreat (Selanidingo)- 2hr drive+ visit
D12-(Wed)-Dhauli- Hirapur- Unique textile village- Joranda Monastery – Dhenkanal (4hr drive+ visit)
D13-(Thur)-Dhenkanal-Ratnagiri- Udaygiri-Bhitarkanika National Park (3.30hr drive+ visit)
D14-(Fri)-Bhitarkanika National Park ( Boating and sighting of wild crocodile on nature)- Bhitarkanika national park open 1st August to 31st May every year
D15-(Sat)-Bhitarkanika- Bhubaneswar temple tour- Bhubaneswar ( evening departure at airport for on wards journey)
Accommodation in Tribal area now clean and comfort hotel with air con and private attached toilet and in the tribal area all weather motor able road is connected / we mentioned the driving hour approximately it may be varied (more or less ) accordingly the local situation / most of our guest like the ambiance , mouthwatering food ,  traditional village retreat at chandanpur name as Selanidingo / Guest feel the real culture of Orissa- India at here. During stay at selanidingo we organised the traditional Gotipua Dance at the Gurukul  / for herbal oil body massage by the royal village barber please say in advance . For more description of the itinerary  please feel free to contact us. Welcome to the land of tribal and encourage the responsible tour.
Tour concludes:
Note- For Detail description , guide and local support and best price please contact with us / our expert team will reply you soon / booking of tour please mentioned the tour code
Tour Description : For more description details with real photos please contact to our expert
What ever you want out of your trip we can revise tailor make an itinerary for you!!!!!