Budhist Tour Of Chhattisgarh
Code nr: 203/ CGBT
Destination of Tour: though it is Buddhist tour of Chhattisgarh – Chhattisgarh is rich culture of Buddhist heritage at Siripur, there has excavated group of ancient monastery ( during Post Gupta period). Dalai Lama visited 3 year before of that place
Duration of Tour: 2 Night/ 3 Days
D1-Raipur-
Upon arrival Raipur airport/ Railway station meet our representative and transfer to hotel.
D2-Raipur- Siripur -Raipur(4hr drive+ visit)
Morning drive towards Siripur and visit the group of monastery , surang tolla, kuti vihar etc also visit the only brick temple of central india- Lakhanath temple-6 c AD, Ancient market yard palce etc. Siripur: once the capital of Dakhin Kosal and rulled by kalchuri, parmar dynasty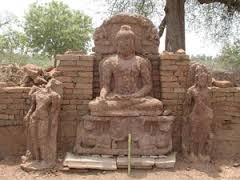 etc during Gupta period and post gupta period this region was culturally highly developed by these dynasty so during their period Budhist and hindu monastery developed in these region. Return back to Raipur for overnight stay.
D3-Departure
Morning after breakfast drive towards airport for your onwards journey.
What ever you want out of your trip we can tailor make an itinerary for you!!!!!