Colorful Festival with Tribal Wonder in Odisha (Orissa)
RATH YATRA (CHARIOT FESTIVAL) AT PURI: (25th June – 3rd July 2017)
"Journey with God"; the grand chariot festival of lord Jagannath, popularly known as Rath Yatra celebrates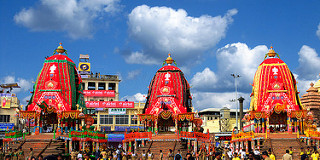 throughout the country. But especially colourful at Puri and tribal area to attract million of devotee and visitors, they draw three chariots from main temple to Gundicha temple (3 and half km.) And back to it after 9 days to the main temple. A particular tribe in Orissa fixed the marriage at the beginning days of the festival and many newly married tribal couple wearing with their traditional costume and ornaments come in the beginning day of the festival which is another attraction.
Location of this festival: Our festival tour begin at southern- tribal part of Orissa – Bissamcuttack nearest airport is Visakhapatnam (250 km) and Bhubaneswar ( 400 km) . Nearest railway station is Bissamcuttack ( 10km) , nearest main railhead is Rayagada ( 45km) . And it connects with all weather motor able roads.
And end at Puri ( Eastern Odisha) which is one of the major tourist attraction of our country. Puri nearest airport is Bhubaneswar ( 60 km). Main railhead is Puri it self – 2 km from city centre.
Code no: 106-A/ ORIF
Tour itinerary / duration: 15 Days/ 14 Night (weekend to weekend)
Suggested Itinerary:
Day1-(Sat)-24th June. 2017- Visakhapatnam- Rayagada (4hr drive)
Upon arrival Visakhapatnam  airport meet our representative and transfer to Rayagada by road. Check in a clean comfort hotel and relax.
Day2-(Sun)- 25th June. – Rayagada- Bisamcuttack (Ratha Yatra)- chariot Festival- Rayagada
Morning after early breakfast departure to Bisamcuttack and full day enjoy the chariot festival at the grand road with the colorful Dunguria Tribal community. Late afternoon return back to Rayagada for overnight stay.
Day3-(Mon)-26th June- Desia Kondh / village- Market- Jewellery making village- Rayagada.
Meet the colorful Desia Kondh tribe at their remort area of lush green zig zag high hill forest ( all weather motorable road) and also at their colorful market. Excursion the jewellery making village and learn the tech of dokra casting metal work at tribal  jewellery making village. Overnight at the same hotel at Rayagada.
Day4-(Tue)- 27th June- Lanjia Saura village- Rayagada
Morning drive towards Gunupur region and meet one of the most colorful Lanjia saura at their village. 1200 mt above of the high hill region of easter ghat mountain range ( connect with all weather motorable road).
After excursion of their village return back to Rayagada for overnight stay.
Day5-(wed)-28th June-Kuvi Kondh village- Paraja tribe market and village- Nandapur- Jeypore
Meet kuvi kondh tribes at their village- visit the sana paraja market at Nandapur area and visit the 32 singhasan and subai jain group of temple. Visit the paraja tribe village too. Overnight stay in a clean comfort hotel at Jeypore.
Day6-(Thur)- 29th June- Bonda tribal market (onkadelly)- Gadhava Village- Jeypore.
Meet the most colorful Bonda tribe at their market at Onkadelly. Visit the typical Gadhava tribe village and after noon heritage walk at the grand road of Jeypore.
Day7-(Fri)- 30th June- Koraput- Kunduli- Mali tribe village- Rayagada
Morning excursion the hindu philosophy at Koraput Jagannath temple. Meet the Paraja, Rana and Mali tribe at the largest tribal weekly market of south orissa- Kunduli.
Meet the colorful Mali tribes at their village and check in a nice clean comfort hotel at Rayagada.
Day8-(Sat)-1st July- Kutia Tribe village- Baliguda
Meet the Kutia Tribe (Tattoo faced) at their village and check in a only hotel at Baliguda (recognize by Lonely planet book).
Day9-(Sun)-2nd July- Belmetal village (Belaguntha)- Chilika lake- Puri
Morning drive towards Puri, enroute visit the Belmetal , iron casting, and also Bamboo basket making village at Belaguntha . boating on Chilika lake . check in a nice hotel on beach. Rewind your energy at the swimming pool.
Day10-(Mon)-3rd July- Puri- full day Bahuda Rathayatra (Chariot Festival)- Puri
Full day explore and excursion the returning chariot festival – Bahuda Rathayatra at puri. Special seating and refreshment arrangement by us. Overnight at puri.
Day11-(Tue)-4th July- Puri-Konark-Sunabhesa ( Golden Decoration of God)- Puri
Excursion the language of stone on 13th c AD at Konark sun temple and evening visit the special holy sighting of Golden Decoration of God Jagannath famously known as Sunabhesa. ( where each god on chariot's decorates by hundred kg of gold). Overnight at Puri.
Day12-(Wed)-5th July- Puri- Raghurajpur- Dhauli- Dhenkanal/ palace
Morning departure to Dhenkanal and enroute meet the classic artisan village at Raghurajpur and enjoy the gotipua – Odishi classical dance at the Gurukul of village ambiance. And excursion the rock edict of emperor Ashoka on 3rd C BC at Dhauli. Check in a nice heritage palace at Dhenkanal. Enjoy the mouth watering dinner at their royal dining hall with royal hospitality.
Day13-(Thur)-6th July- Dhenkanal- Textile village- Joranda / Monastry- Dhenkanal palace
Morning meet the famous weaver at the unique textile village at Maniabandha / Nuapatna and excursion the tie and dye live tech famously known as ikat. After visit the very special Joranda Monastry and explore the unique worship of Mahima sadhu during sun set time.
Overnight at the same heritage palace at Dhenkanal.
Day14-(Fri)- 7th July- Dhenkanal- Bhubaneswar temple tour- Bhubaneswar
Morning after breakfast at the open royal garden check out proceed towards to Bhubaneswar. Visit the temple of temple city at old part of Bhubaneswar. Check in a nice hotel and relax
Day15-(sat)-8th July- Bhubaneswar- Departure
Morning after breakfast checkout and departure to Airport , board the flight for your onwards journey with lots of sweet memory.
For more detail description & best price please feel free to contact : jituguideorissa@gmail.com , travel@dulcimertours.com or phone to us +91-9439050039
2- Dhunuyatra Festival Date- 23rd Dec. 2017 to 2nd January 2018)
It's the festival of legendary dramatic story of lord Krishna (from birth to king ceremony) and open air festival between two villages recorded Guinness Book of World Records. (Largest drama pandal in the world). Where two villages are involved in this festival for 11 days. Each day is the different chapter of that legend live story display by the villager.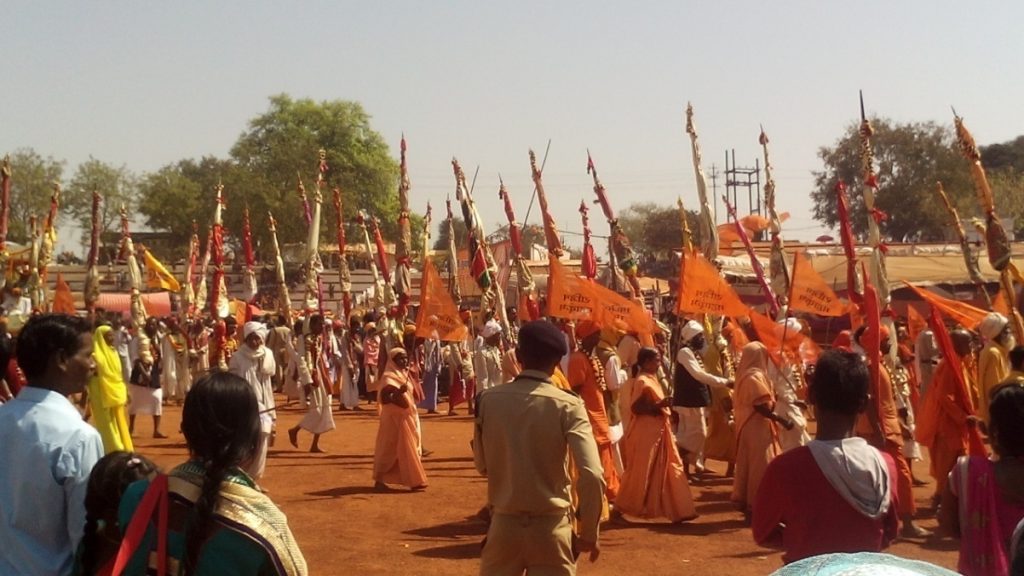 Location of this festival:
Dhunuyatra Festival – Bow Festival location at Bargarh -western part of Odisha( Orissa),
Nearest airport is Raipur (300km). connect with Delhi, Mumbai, Bhopal etc…& Bhubaneswar (340km), connect with Delhi, Mumbai, Calcutta, Chennai etc…
Nearest railway station is Bargarh (4km from city centre) , main railhead at Sambalpur ( 40km). It connects the all weather motor able road to the major cities of India.
Code no: 106-B/ORIF
Tour itinerary / duration: 14 Night / 15 Days (weekend to weekend)
Here we use some fix departure in based of tribal tour and Dhanuyatra festival of Orissa, and also to keep the distance and sighting of this tour, we start our tour from Visakhapatnam ( the southern end of orissa) that's why we mentioned here some particular day and date in order.
Suggested Itinerary:
D1-(Sat)- 23rd December / 2017 – Arrival at Visakhapatnam airport – transfer to hotel on beach.
Upon arrival in Visakhapatnam airport meet our representative and transfer to hotel on beach.
D2-(sun)-24th December– Visakhapatnam- Sankaram Budhist site- Rayagada (5hr drive+ visit)
D3-(Mon)-25th December –Hiking Lanjia SaoraTribal village- Rayagada (5hr drive+ visit)
D4-(Tue)- 26th December.–isolated Desia Tribal village in core forest area- Paikapada- Dokra casting village- Rayagada. (4hr drive+ visit)
D5-(Wed)-27th December. – chatikona-(Dunguria Market) – Kuvi Kondh village- Podagarh- Desia Luxury eco resort or hotel at Jeypore.(5hr drive+ visit)
D6-(Thu)-28th December– Onkadelly( famous for Bonda Tribe market)- Gadhava village- Jeypore(3hr drive+ visit)
D7-(Fri)-29th December –hiking Isolated GondTribe village- Pre-historic rock art site- Bhumiya Tribe village- Kalahandi palace (4.30hr drive+ visit)
D8-(Sat)-30th December. – Kalahandi (Bhavanipatna)- Balangir Textile village- Bargarh/ Evening Dhanuyatra Festival (4hr drive+ visit)
D9-(Sun)- 31st December.– Bargarh – full day Dhanuyatra Festival
Full day excursion the Dhanuyatra festival at Bargarh .
D10-(Mon)-1st January 2018.– Bargarh- Joranda Mahima sadhu monastry-Dhenkanal palace (5hr drive+ visit)
D11-(Tue)- 2nd Jan. – Dhenkanal- Buddhist circuit ( Lalitgiri/ Udaygiri/ Ratnagiri)- Kilajodi( 4hr drive + visit)
D12-(Wed)-3rd Jan.– Kilajodi- Bhubaneswar temple tour – Puri ( 3.30 hr drive+ visit)
D13-(Thu)- 4th Jan.– Puri sightseeing by cycle rickshaw and Gotipua dance at Gurukul artisan village– Konark sun temple –puri (2.30hr drive+ visit)
D14-(Fri)-5th Jan.– Puri- Chilika lake / dolphin and sea mouth point while boating- Puri (3.30hr drive+ visit)
D15-(Sat)-6th Jan.– Puri- Departure for Bhubaneswar airport for your onward destination.
Tour concludes:
For description and special discount price please feel free to contact with us.
KONARK FESTIVAL: (1st-5th December)–
It is a festival of classical dances of India performed at the backdrop of the 13th century Sun Temple, Konark. Which is held in an open air auditorium, showcases a magical parade of India's classical and traditional dance forms annually? Besides the dance performances the guests will explore the language of stone of sun temple. Sand Art exhibition will be yet another attraction for tourists.
RAJARANI MUSIC FESTIVAL :(January)
This festival is held against the backdrop of the 11th century Rajarani temple in Bhubaneswar during the month of January. The ambiance is relaxing and uplifting. The temple has absence of any presiding deity so it's like a monument. But famous for its magnificent statues of eight Digpalakas (guarding the eight cardinal directions of the temple). The musical evening's performances by the great maestros of Indian classical music.
FOLK DANCE FESTIVAL AT SAMBALPUR: (4th – 6th January)
Besides the Classical Odissi Dance Orissa is rich in folk dances also. A festival is organised at Sambalpur (western part of Orissa) for three days (from 4th – 6th Jan.)To present glimpses of folk dances of Orissa from different regions. The famous folk dances accompanied by rhythmic music, vocal as well as instrumental, keep the tourists (guests) spell bound. Another attraction of that festival is the dancers and the accompanists also present glimpses of the local handloom fabric through their costumes.
KHANDAGIRI MOHASTAV & KHARAVELA MELA AT KHANDAGIRI 🙁 January- February)
A grand fair is held at Khandagiri near Bhubaneswar from MAGHA SAPTAMI (We inform you the date, because it's in our Oriya calendar) for about a week. A variety of local handmade product, especially from the rural areas, is displayed for sale.
During evening hours Indian classical and folk dances is also organised on the open air pandal.
KONARK DANCE & MUSIC FESTIVAL 🙁 19th – 23rd February)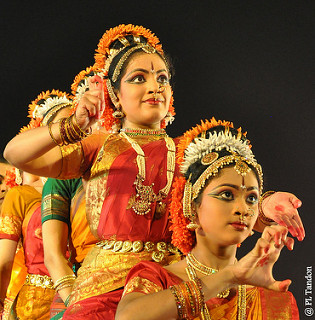 This festival has completely dedicate the legend Guru late Gangadhar Pradhan, this festival has established its own unique identity by the eminent artistes of national and international repute participate and perform Odissi, Bharatnatyam, Kuchipudi, Manipuri, Kathak, Mohiniattam and other classical folk & tribal dances/ music of our country on the enchanting stage of the Natyashala in the monumental Sun Temple, Konark. The stage and the atmosphere are magnified by the spiritual flavour, in the natural ambience.
ADIVASI MELA AT BHUBANESWAR: (26th January-09th February)
The Adivasi Mela has been exhibited each year by Orissa state govt. In Bhubaneswar, Showcases the art and craft of the tribal communities. The special highlights of the festival are the forest products and tribal products, exhibited and sold as well as cultural programmes presented by different tribal communities.
KALINGA MAHOTSAV: (23rd -24th February)
It's a dizzying dancing and dynamic stage presentation, is held at the hill of the famous Peace Pagoda. It showcases the vibrant traditions of martial arts India through a colourful display of dances and music. The calm and solemn statue of Buddha overlooking the entire stage from the top of the Dhauli stupa. The martial dancers interpret incredible the brave idea of kalinga through their different traditional weapons and thrill the audience. The aim of the festival is to harmonize the vigor of martial tradition with the display of peace through the art of dance.
DHAULI MAHOTSAV: (25th- 27th March)
Dhauli Mahotsav showcases a wide range of rural art and culture from classical to folk items such as Odissi dance, Gotipua, Odissi vocal, chhau dance etc. Many artists from different disciplines perform on the different days of the Mahotsav. The event aim is to embrace many artists into its cultural fold and also at international cultural amity and harmony.
PARAV- TRIBAL DANCE FESTIVAL: (16th – 18th November)
Orissa is rich in tribal culture with 62 tribes; after a day's hard work the simple tribes have host of dance forms to enjoy their life. With a view to unfolding this aspect of the tribal culture a festival of tribal dances known as "Parava" is organised at Koraput every year. The tribal dancers with their traditional costumes and typical head gears keep the tourists (guests) amused. The aim of this festival is to display the rich tribal culture to rest of the world.
Note: we can well organize the seating and refreshment programme with the help of local during different festival time.
What ever you want out of your trip we can tailor make an itinerary for you!!!!!