Unique Village Tours In Orissa
Code nr: 107 /ORIV
Tour Destination: Orissa is predominantly rural, with fertile green coastal plains rising to the hills of the Eastern Ghats. In below given itinerary we try to show you something special, non touristic and friendly village. Most of our village has character and completely different from one to other. We try to display the classic idea of real Orissa- the soul of India.
Duration of Tour: 14 Night/ 15 Days ( Weekend to Weekend)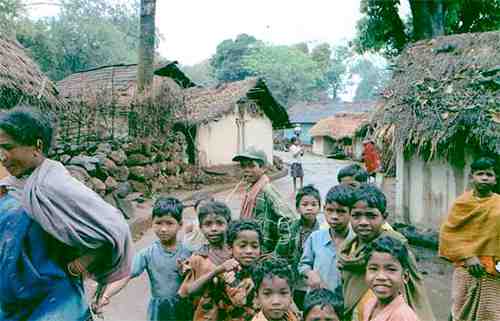 D1-Bhubaneswar-Hirapur-Bhubaneswar(1hr drive+visit)
Upon arrival airport/ railway station meet our representative and transfer to hotel. Bhubaneswar is a capital city of orissa, so around 20 km there are nice village called Hirapur famous for yogini temple with nice pond and people are friendly walk around there then return back to hotel. Interact with your guide regarding tomorrow programme.
D2-Bhubaneswar-Textile weaving village-Dokra village-Dhenkanal(3hr drive+visit)
Excursion the unique textile weaving village – Nuapatna famous for tie and dye fabric called "Bandha". Then drive towards Dokra metal casting village. Then check in a nice heritage palace at Dhenkanal.
D3-Palm leaf fan/mat-Tribal jewellery making village-Dhenkanal(3hr drive+visit)
Meet the palm leaf fan and mat preparing local at their village. Near to that village meet the tribal jewellery making local at their village see the live technique of tribal jeweller making. Meet the Mahima sadhus at their monastery and then return back to the same palace.
D4-Golden grass craft village-No door/ doorjamb village-chandbali(4hr drive+visit)
Morning proceed towards chandbali enroute visit the Golden grass craft village. Then after drive to mysterious village in orissa . whole the village has each and every house has no door and doorjamb – popularly called the village of faith( still today there is no record of thieft at there by anybodies).
D5-Mural painting by rice pest village-Malhar village-ali(4hr drive+Visit)
Orissa's ancient name was kalinga( means the land of art, so each and every corner one can see the artistic work). Visit the special village famous for Mural painting by rice pest. Check in the heritage palace at Ali, afternoon visit the Malhar (kings boatman, because in ancient day orissa sailor had been sailing over the jetty of Ali). So visit their settlement.
D6-Niali-Madhav village-chaurasi-prachi velly civilisation village-konark- puri(4hr drive+Visit)
Visit the Baisnav cult person at Niali near Madhav temple. Then Hiking the village at Prachi velly and visit the Chaurasi Barahi temple-10 c AD. Then visit the sun temple at Konark. Then check in a nice hotel on beach at puri.
D7-Artisan village-coconut picker village-fishermen village- Puri(2hr drive+Visit)
Meet the artist at the heritage village- Raghurajpur, excursion their classic art form- pattachitra, palm leaf engraving art, etc. Then during hiking meet the coconut picker people at their village. Afternoon meet the fishermen at their village on shore. Relax in the same hotel at Puri.
D8-Mahatma Gandhi rest village-country boat and net making village-chilika(4hr drive+Visit)
Hiking the Mahatma Gandhi rest village ( in 1936 Mahatma Gandhi came to Puri over train, before puri when he listen Puri Jagannath temple has no allowed for lower cast people, he was very disappoint with the system. He decided not to go puri. He drop 20km before of it. When the local heard Gandhi is at here. They welcomed him their village , so Gandhi stayed there 6 days its called now Mahatma Gandhi village.) Then drive from there to Mangalajodi on chilika lake, famous for migratory and residence birds. Near that spot there is a very nice village famous for country side boat making and net making by hand. Excursion that village. Check in a nice eco resort at there run by the villager.
D9-Rice mine village- Kondh Tribal village-Tent (

Camping

)(7hr drive+Visit)
Early departure for Baliguda the entrance of tribal area in south-central orissa. Enroute visit the rice mine village( its also one of the mysterious village. Here people keep their raw rice in front of their house under ground with special tech.) Meet the Kondh tribes at their village. Then strait drive towards friendly Kutia Village for camping in basic tent.
D10-Kutia Tribe Village- Dokra casting village- Rayagada(5hr drive+Visit)
Meet the tattoo faced (kutia) tribe while hiking their village (1hr hiking) still there is no proper road and they live in side of the forest. Then meet the Dokra casting artisan at their unique village, enjoy their group work then after drive towards Rayagada for overnight staying.
D11-Lanjia Saura Tribal village-Sudha Saura Tribal village-Rayagada(6hr drive+Visit)
Excursion the Lanjia Saura Tribe at their village. Lanjia Saura: one of the most colourful tribe not only of our state but also our country. The only Aryan tribe of the state. Famous for their four special thing such as they use wood plug on the ear lob, their special tail shaped dress material ( they called lanja- that why they called lanjia saura), terrace cultivation , special mural dream painting they called idital. After full day excursion return back to Rayagada for overnight stay.
D12-Dunguria Tribal village- Desia tribal Village- Tent (

Camping

)( 4hr drive+visit)
Meet the colourful Dunguria tribe at their village, Danguria tribe: mingling of two words like Dangar ( hill) and ria ( man) means they are hillmen. Special for their dress material, lots of jewelary and hair cleap, female wear exclusively white cloth. They are very very colourful. excursion their dhangdasal or hadasala and Then after drive to Desia tribal village on the top of high hill and lush green forest ( but that unique village has all weather motorable road) while hiking their village excursion their lifestyle. And overnight stay at there with basic tent (camping). During camping enjoy the tribal dance and group song by the community ( subject to available drum men).
D13-Kuvi Kondh village-Bado Paraja Tribe village-Jeypore(4hr drive+Visit)
Meet the Kuvi Kondh tribe at their unique village, and Bado Paraja tribe at their village also. (out of 12 catagories of Paraja tribe Bado Paraja is most colourful. Check in a nice hotel at Jeypore.
D14-Gadhava tribe village-Dhuruba tribe village-Bhumiya tribe village- Jeypore(5hr drive+Visit)
Visit the colourful Boro Gadhava village, they are special for their dress material called keranga and their house making style, visit their worship place, meeting place etc. Drive towards Dhuruba and Bhumiya village. Dhuruba: one of famous sub tribe of Gond communities of central india. They are very specific of their physical structure and also their house pattern , their tattoo mark, cloth wearing style, their anklet and ornament. They like to live in a core jungle area.
D15- Mali tribe village-Drop at Visakhapatnam Drop (5hr drive+Visit)
Morning check out and departure for Visakhapatnam enroute visit the colourful Mali tribe village and explore their life style. Check in a nice hotel at Visakhapatnam.
Visakhapanam is a big city has an airport and main junction of rail head.
If your flight / train is at late evening then direct drop, at your time to your onwards journey.
Tour concludes:
Note: we have introduced the tent tour (camping) in the isolated village in tribal area which is purely safety even for woman traveler also, it offer certainly the new experience for you which includes basic tent with clean mattress & hygenic organic food ( meal).
For more detail or revised itinerary and price please feel free to contact with us.
What ever you want out of your trip we can tailor make an itinerary for you!!!!!