Dhunuyatra Festival Date- 23rd Dec. 2017 to 2nd January 2018)
It's the festival of legendary dramatic story of lord Krishna (from birth to king ceremony) and open air festival between two villages recorded Guinness Book of World Records. (Largest drama pandal in the world). Where two villages are involved in this festival for 11 days. Each day is the different chapter of that legend live story display by the villager.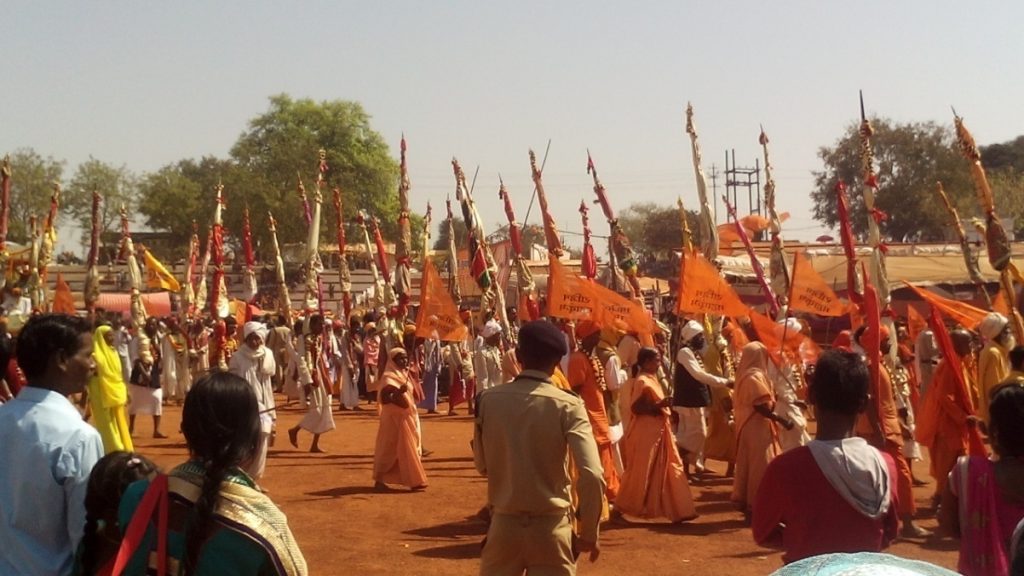 Location of this festival:
Dhunuyatra Festival – Bow Festival location at Bargarh -western part of Odisha( Orissa),
Nearest airport is Raipur (300km). connect with Delhi, Mumbai, Bhopal etc…& Bhubaneswar (340km), connect with Delhi, Mumbai, Calcutta, Chennai etc…
Nearest railway station is Bargarh (4km from city centre) , main railhead at Sambalpur ( 40km). It connects the all weather motor able road to the major cities of India.
Code no: 106-B/ORIF
Tour itinerary / duration:  14 Night / 15 Days (weekend to weekend)
Here we use some fix departure in based of tribal tour and Dhanuyatra festival of Orissa, and also to keep the distance and sighting of this tour, we start our tour from Visakhapatnam ( the southern end of orissa)  that's why we mentioned here some particular day and date in order.
Suggested Itinerary:
D1-(Sat)- 23rd December / 2017 – Arrival at Visakhapatnam airport – transfer to hotel on beach.
Upon arrival in Visakhapatnam airport meet our representative and transfer to hotel on beach.
D2-(sun)-24th December– Visakhapatnam- Sankaram Budhist site-  Rayagada (5hr drive+ visit)
 D3-(Mon)-25th December –Hiking Lanjia SaoraTribal village- Rayagada (5hr drive+ visit)
D4-(Tue)- 26th December.–isolated  Desia Tribal village in core forest area- Paikapada- Dokra casting village- Rayagada. (4hr drive+ visit)
D5-(Wed)-27th December. – chatikona-(Dunguria Market) – Kuvi Kondh village- Podagarh- Desia Luxury eco resort or hotel at Jeypore.(5hr drive+ visit)
D6-(Thu)-28th December– Onkadelly( famous for Bonda Tribe market)- Gadhava village- Jeypore(3hr drive+ visit)
D7-(Fri)-29th December –hiking Isolated GondTribe village- Pre-historic rock art site- Bhumiya Tribe village- Kalahandi palace (4.30hr drive+ visit)
 D8-(Sat)-30th December. – Kalahandi (Bhavanipatna)- Balangir Textile village- Bargarh/ Evening Dhanuyatra Festival (4hr drive+ visit)
D9-(Sun)- 31st December.– Bargarh – full day Dhanuyatra Festival
Full day excursion the Dhanuyatra festival at Bargarh .
D10-(Mon)-1st  January 2018.– Bargarh- Joranda Mahima sadhu monastry-Dhenkanal palace (5hr drive+ visit)
 D11-(Tue)- 2nd Jan. – Dhenkanal- Buddhist circuit ( Lalitgiri/ Udaygiri/ Ratnagiri)- Kilajodi( 4hr drive + visit)
D12-(Wed)-3rd  Jan.– Kilajodi- Bhubaneswar temple tour – Puri ( 3.30 hr drive+ visit)
D13-(Thu)- 4th Jan.– Puri sightseeing by cycle rickshaw and Gotipua dance at Gurukul artisan village– Konark sun temple –puri (2.30hr drive+ visit)
D14-(Fri)-5th Jan.– Puri- Chilika lake / dolphin and sea mouth point while boating- Puri (3.30hr drive+ visit)
D15-(Sat)-6th Jan.– Puri- Departure for Bhubaneswar airport for your onward destination.
Tour concludes:
For description and special discount price please feel free to contact with us.
What ever you want out of your trip we can tailor make an itinerary for you!!!!!