Chariot Festival with Tribal Wonder in Orissa
RATH YATRA (CHARIOT FESTIVAL) (25th June – 3rd July 2017)
"Journey with God"; the grand chariot festival of lord Jagannath, popularly known as Rath Yatra celebrates throughout the country. But especially colourful at Puri and tribal area to attract million of devotee and visitors, they draw three chariots from main temple to Gundicha temple (3 and half km.) And back to it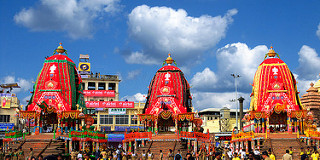 after 9 days to the main temple. A particular tribe in Orissa fixed the marriage at the beginning days of the festival and many newly married tribal couple wearing with their traditional costume and ornaments come in the beginning day of the festival which is another attraction.
Location of this festival: Our festival tour begin at southern- tribal part of Orissa – Bissamcuttack nearest airport is Visakhapatnam (250 km) and Bhubaneswar ( 400 km) . Nearest railway station is Bissamcuttack ( 10km) , nearest main railhead is Rayagada ( 45km) . And it connects with all weather motor able roads.
And end at Puri ( Eastern Odisha) which is one of the major tourist attraction of our country. Puri nearest airport is Bhubaneswar ( 60 km). Main railhead is Puri it self – 2 km from city centre.
Code no: 106-A/ ORIF
Tour itinerary / duration: 15 Days/ 14 Night (weekend to weekend)
Suggested Itinerary:

Day1-(Sat)-24th June. 2017- Visakhapatnam- Rayagada (4hr drive)
Upon arrival Visakhapatnam  airport meet our representative and transfer to Rayagada by road. Check in a clean comfort hotel and relax.
Day2-(Sun)- 25th June. – Rayagada- Bisamcuttack (Ratha Yatra)- chariot Festival- Rayagada
Morning after early breakfast departure to Bisamcuttack and full day enjoy the chariot festival at the grand road with the colorful Dunguria Tribal community. Late afternoon return back to Rayagada for overnight stay.
Day3-(Mon)-26th June- Desia Kondh / village- Market- Jewellery making village- Rayagada.
Meet the colorful Desia Kondh tribe at their remort area of lush green zig zag high hill forest ( all weather motorable road) and also at their colorful market. Excursion the jewellery making village and learn the tech of dokra casting metal work at tribal  jewellery making village. Overnight at the same hotel at Rayagada.
Day4-(Tue)- 27th June- Lanjia Saura village- Rayagada
Morning drive towards Gunupur region and meet one of the most colorful Lanjia saura at their village. 1200 mt above of the high hill region of easter ghat mountain range ( connect with all weather motorable road).
After excursion of their village return back to Rayagada for overnight stay.
Day5-(wed)-28th June-Kuvi Kondh village- Paraja tribe market and village- Nandapur- Jeypore
Meet kuvi kondh tribes at their village- visit the sana paraja market at Nandapur area and visit the 32 singhasan and subai jain group of temple. Visit the paraja tribe village too. Overnight stay in a clean comfort hotel at Jeypore.
Day6-(Thur)- 29th June- Bonda tribal market (onkadelly)- Gadhava Village- Jeypore.
Meet the most colorful Bonda tribe at their market at Onkadelly. Visit the typical Gadhava tribe village and after noon heritage walk at the grand road of Jeypore.
Day7-(Fri)- 30th June- Koraput- Kunduli- Mali tribe village- Rayagada
Morning excursion the hindu philosophy at Koraput Jagannath temple. Meet the Paraja, Rana and Mali tribe at the largest tribal weekly market of south orissa- Kunduli.
Meet the colorful Mali tribes at their village and check in a nice clean comfort hotel at Rayagada.
Day8-(Sat)-1st July- Kutia Tribe village- Baliguda
Meet the Kutia Tribe (Tattoo faced) at their village and check in a only hotel at Baliguda (recognize by Lonely planet book).
Day9-(Sun)-2nd July- Belmetal village (Belaguntha)- Chilika lake- Puri
Morning drive towards Puri, enroute visit the Belmetal , iron casting, and also Bamboo basket making village at Belaguntha . boating on Chilika lake . check in a nice hotel on beach. Rewind your energy at the swimming pool.
Day10-(Mon)-3rd July- Puri- full day Bahuda Rathayatra (Chariot Festival)- Puri
Full day explore and excursion the returning chariot festival – Bahuda Rathayatra at puri. Special seating and refreshment arrangement by us. Overnight at puri.
Day11-(Tue)-4th July- Puri-Konark-Sunabhesa ( Golden Decoration of God)- Puri
Excursion the language of stone on 13th c AD at Konark sun temple and evening visit the special holy sighting of Golden Decoration of God Jagannath famously known as Sunabhesa. ( where each god on chariot's decorates by hundred kg of gold). Overnight at Puri.
Day12-(Wed)-5th July- Puri- Raghurajpur- Dhauli- Dhenkanal/ palace
Morning departure to Dhenkanal and enroute meet the classic artisan village at Raghurajpur and enjoy the gotipua – Odishi classical dance at the Gurukul of village ambiance. And excursion the rock edict of emperor Ashoka on 3rd C BC at Dhauli. Check in a nice heritage palace at Dhenkanal. Enjoy the mouth watering dinner at their royal dining hall with royal hospitality.
Day13-(Thur)-6th July- Dhenkanal- Textile village- Joranda / Monastry- Dhenkanal palace
Morning meet the famous weaver at the unique textile village at Maniabandha / Nuapatna and excursion the tie and dye live tech famously known as ikat. After visit the very special Joranda Monastry and explore the unique worship of Mahima sadhu during sun set time.
Overnight at the same heritage palace at Dhenkanal.
Day14-(Fri)- 7th July- Dhenkanal- Bhubaneswar temple tour- Bhubaneswar
Morning after breakfast at the open royal garden check out proceed towards to Bhubaneswar. Visit the temple of temple city at old part of Bhubaneswar. Check in a nice hotel and relax
Day15-(sat)-8th July- Bhubaneswar- Departure
Morning after breakfast checkout and departure to Airport , board the flight for your onwards journey with lots of sweet memory.