Chariot Festival with Tribal Wonder in Orissa
RATH YATRA (CHARIOT FESTIVAL) (16 th July -24 th July 2018)
"Journey with God"; the grand chariot festival of lord Jagannath, popularly known as Rath Yatra celebrates throughout the country. But especially colourful at Puri and tribal area to attract million of devotee and visitors, they draw three chariots from main temple to Gundicha temple (3 and half km.) And back to it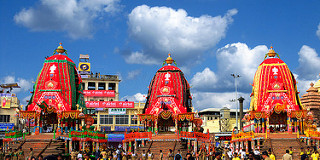 after 9 days to the main temple. A particular tribe in Orissa fixed the marriage at the beginning days of the festival and many newly married tribal couple wearing with their traditional costume and ornaments come in the beginning day of the festival which is another attraction.
Location of this festival: Our festival tour begin at southern- tribal part of Orissa – Bissamcuttack nearest airport is Visakhapatnam (250 km) and Bhubaneswar ( 400 km) . Nearest railway station is Bissamcuttack ( 10km) , nearest main railhead is Rayagada ( 45km) . And it connects with all weather motor able roads.
And conclusion at Puri ( Eastern Odisha) which is one of the major tourist attraction of our country. Puri
nearest airport is Bhubaneswar ( 60 km). Main railhead is Puri it self – 2 km from city centre.
Code no: 106-A/ ORIF
Tour itinerary / duration: 14 Night / 15 Days (weekend to weekend)
For instant Itinerary please feel free to contact with us / just you send your arrival and departure date rest you leave on us.
Note- Due to high demand the seating arrangement at Puri , and also festive season your early confirmation is highly appreciable.