RAJIM KUMBHA MELA: (31st January- 14th Feb 2018)
Rajim kumbha is the grand festival, which has been celebrated at Rajim (three holy rivers the Mahanadi, the son and the pair mingling point, popularly known as the Prayag of Chhattisgarh) with thousands of devotees lots of saints and Naga sadhus participate the holy deep of the festival.
Location : Rajim is cultural capital of Chhattisgarh,
Nearest airport– Raipur ( 40km)
Nearest  railway station– Raipur ( 44km). And it connect all weather motor able road . from Abhanpur 19 km.
Code no: 206-A /CGFT
Tour itinerary / duration: 14 Night / 15 Days (weekend to weekend)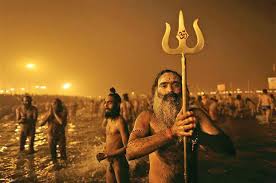 Here we use some fix departure in based of colorful ethinic group such as Ramnami, Dandami Maria, Muria, Gond, Baiga with colourful Rajim Kumbha festival in Chhattisgarrh, and also to keep in mind the distance and sighting of this tour we mentioned here some particular day and date in order.
Suggested Itinerary:
D1-(Sat)- 3rd  Feb -2018 – Arrival at Raipur airport – transfer to hotel.
Upon arrival meet our representative and transfer to hotel.
D2-(sun)-4th Feb.- Raipur- Tala Rudra shiva- Malhar- Bilaspur
Visit the Maha rudra shiva at Tala gaon and visit also the ancient town Malhar, check in the nice hotel at Bilaspur.
3-(Mon)-5th Feb.- Ramnami tribe- Bilaspur
Visit famous Ramnami tribe at their isolated village, (very few ramnami tribes are remain). Return back to Bilaspur for overnight stay.
D4-(Tue)-6th Feb.- Bilaspur-kanker
Proceed towards Kanker, enroute visit the champaran, check in a nice palace at Kanker.
D5-(Wed)-7th Feb.-kanker- Udkuda- Pre-historic rock art site in core jungle area- Kanker.
Visit the pre-historic rock art site in the core jungle area of Udkuda and Gotitula , picknic lunch at royal farm house, return back to Kanker palace enjoy the mouthwatering royal dinner.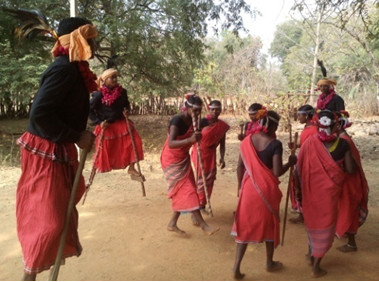 D6-(Thu)-8th Feb.- Bastar Market- Muria tribal village- Gotul dance- Jagadalpur
Meet the famous Muria tribes at their famous Bastar market and visit their isolated village and enjoy their Gotul dance at there. Check in a nice jungle resort at Jagdalpur.
D7-(Fri)-9th Feb.- Jagdalpur-Dandami maria village ( Bison horn dance) the grand market of Maria tribas- Tirathgarh waterfall- Jagdalpur
Meet the Dandami Maria tribes at their village and enjoy the famous Bison Horn group dance at their village ambiance.  Visit also famous Tirathgarh waterfall, and famous grand weekly market too.
D8-(Sat)-10th Feb.- Kondagaon- iron casting village- Gond tribal village- Kanker
Morning departure towards Kondagaon , meet the famous Dokra casting people at their village and iron casting village and excursion their live hand made work at their. Visit the famous Gond tribal village at Keshkal region, check in again the same heritage palace at Kanker.
D9-(Sun)- 11th Feb.- kanker- Barnawapara wildlife sanctuary
Morning proceed towards Barnawapara wildlife sanctuary, check in a nice jungle resort and afternoon hiking to the near by ethnic village.
D10-(Mon)-12th Feb- Barnawapara wild life sanctuary – morning and afternoon open jeep safari
Morning and afternoon open jeep safari and meet different flora and fauna at that sanctuary.
D11-(Tue)- 13th  Feb-Barnawapara – siripur budhist site- Arang- Rajim Kumbha Mela site- Raipur
Morning after breakfast departure for Siripur explore the excavated budhist and hindu monastery site, then explore the jain monument at Arang, then strate drive toward Rajim Kumbha Mela , and meet the naga sadhus. Return back to Raipur and check in a nice hotel.
D12-(Wed)-14th  Feb.- – shivaratri special Darshan again RAJIM KUMBHA FESTIVAL- Raipur
Early departure for Rajim Kumbha Mela- fair too, and full day excursion the Fair with Naga sadhus, and enjoy the holy deep . afternoon return back to hotel and relax.
D13-(Thu)- 15th  Feb.- Raipur- Yadav village- Bharamdeo jungle resort
Morning after breakfast check out and departure for Bharamdeo enroute visit the Yadav village, very unique mural paintings of all houses, check in a nice jungle resort at Bharamdeo. After noon visit the famous Bharamdeo temple-11th c AD,
D14-(Fri)-16th Feb-Bharamdeo- isolated Baiga tribal village/ Baiga dance- weekly market-Bharamdeo
Meet the most colorful Baiga tribes at their isolated village of core jungle area. Enjoy their traditional dance ( subject to available of drum men) and also visit their famous Weekly market .
Overnight at the same jungle resort.
D15-(Sat)-17th Feb.- Bharamdeo- Raipur (3.30hr drive) Departure to Raipur airport for your onward destination.
Tour concludes:
We can combine this Rajim Kumbha Mela fair in Chhattisgarh with Joranda sadhu festival in Orissa, for more detail please feel free to contact with us.
http://dulcimertours.com/chhattisgarh-tours/rajim-kumbhamela-tribal-wonder-chhattisgarh/