BASTAR DUSSHERA: (25th September-  1st  October 2017)
The main festival of Bastar is Dusshera which spans over 75 days. It starts it Haryali Amavasya and involves participation of almost all people of the society. It has been celebrated for hundreds of years. Unlike the rest of India, where Raavan is burnt to mark the victory of good over evil, Bastar ( Jagdalpur)Dusshera involves Functions like Kaachan Gaadi, Jogi Bithai, Maavli Parghav, Bhitar Raini, Baahar Raini, Chariot Procession, and Maiji's Vidai.
Location : Bastar region now the headquarter is at Jagdalpur .
Nearest airport:  Raipur ( 300 km, 6hr drive), connect with Delhi, Mumbai, Bhopal etc; Visakhapatnam – 320km (6hr drive) which connect Delhi, Mumbai, Chennai, Bangalore etc…
Nearest railway station Jagdalpur (5km). And it connect all weather motareble road .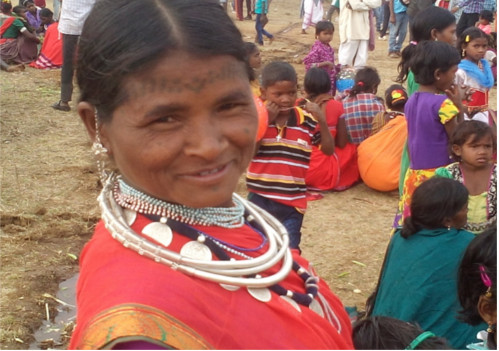 Code no: 206-B /CGFT
Tour itinerary / duration: 14 Night / 15 Days ( weekend to weekend)
Here we use some fix departure in based of tribal tour and Bastar Dashara festival of Chhattisgarh, and also to keep in mind the distance and sighting of this tour we mentioned here some particular day and date in order.
Suggested Itinerary:
D1-(Sat)- 23rd September 2017- -Arrival Raipur airport transfer to hotel.
Upon arrival meet our representative and transfer to hotel.
D2-(sun)-24th Sept..–Raipur- Yadav Village- Bharamdeo (3.30hr drive+ visit)
Morning after breakfast check out and departure for Bharamdeo enroute visit the Yadav village, very unique mural paintings, check in a nice jungle retreat at Bharamdeo.
D3-(Mon)- 25th Sept-Heritage walk at Bharamdeo-full day excursion Isolated  Baiga village- Bharamdeo (3hr drive+ visit)
Heritage walk and cover Bharamdeo temple, cherki mahal, Madua Mahal etc. and then drive towards Baiga villages and meet the very colorful Baiga tribe at there.
D4-(Tue)-26th Sept.-Bharamdeo- Kanker (5.30hr drive+ visit)
Drive towards Kanker, check in a nice heritage palace, meet and greet by royal family.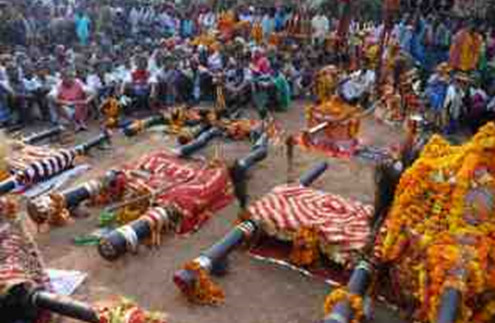 D5-(Wed)- 27th Sept-Kanker- Udkuda- Kanker ( maha saptmi ritural by Royal family of Kanker)-2hr drive+ visit
Visit the pre-historic rock art site at Udkuda and then enjoy the Maha saptmi ritual by royal family at Kanker.
D6-(Thu)- 28th Sept-Kanker- Muria Village- Gotul dance – Sathi Kumarpara (3.30hr drive+ visit)
Meet the colorful Muria tribes at their isolated village and enjoy their Gotul dance ( female dormitory dance with real costume and music) and overnight stay at Sathi Kumarpara eco resort.
D7-(Fri)- 29th Sept-Sathi- Kumarpara- Jagdalpur (Bastar Dusshera festival at Jagdalpur)( 2.30hr drive + visit)
Visit the famous Bastar Dusshera festival at Jagdalpur and check in a nice jungle resort at there.
D8-(Sat)- 30th Sept-RajMaria village- Weekly market- chitrakoot waterfall- Bastar Dusshera festival at Jagdalpur)
Visit Rajmaria ethnic village, famous Chitrakoot waterfall, Saturday weekly market, and evening enjoy again colorful Bastar Dusshera festival at Jagdalpur.
D9-(Sun)- 1st Oct- Dandami Maria Village- Tirathgarh waterfall- weekly Market- ( Bastar Dusshera festival)- (3.30hr drive+ visit)
Morning visit the famous Dandami Maria village, Tirathgarh waterfall, very special Sunday weekly market in core jungle area. And evening enjoy the very special attraction of Bastar Dusshera ( for more detail please feel free contact us).
D10-(Mon)- 2nd Oct- Kondagaon- Lohar village- Gond village- Keshkal Ghat – Kanker (4hr drive+ visit)
Meet the Dokra craft artisan at Kondagaon and iron cast people at Lohar village, meet the very special Gond tribes at their remote village of Keshkal Ghat area. Check in again in the heritage palace of Kanker.
D11-(Tue)- 3rd Oct-Kanker- Rajim – siripur- Barnawapara wildlife sanctuary (5.30hr drive+ visit)
Visit the famous RajivLochan temple -8th c AD, at Rajim, and excursion the ruin excavated group of ancient Budhist and hindu temples at Siripur, then check in a nice jungle resort at Barnawapara wildlife sancturary. 
D12-(Wed)- 4th Oct-Barnawapara wildlife sanctuary / safari ( by open jeep)
Meet the wild animal on nature while open jeep safari at this sanctuary.
D13-(Thu)- 5th Oct- Morning breakfast at sand bar of river- Tala- Malhar- Bilaspur (4.30hr drive+ visit)
Visit the famous Devrani Jethani temple and Rudra shiva at Tala, and ancient town Malhar, check in a nice hotel at Bilaspur. 
D14-(Fri)- 6th  Oct.-Drive toward Ramnami Tribal village / excursion – Bilaspur (4.30hr drive+ visit)
Visit very special Ramnami tribes at their non touristic village and hiking at their village .
Return back to Bilaspur for overnight stay.
D15-(Sat)- 22nd Oct.2017-Morning drive toward Raipur (3hr) and board the afternoon flight for your onwards journey
Tour concludes